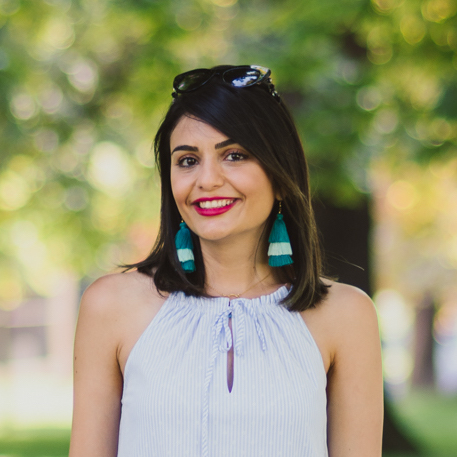 Golshid Yousefi
UX Designer
Sound Family Medicine
Website Redesign
What is Sound Family Medicine?
Sound Family Medicine is an independent practice owned by a group of physicians with many of them serving on the Board of Directors. The shareholders and executive team partner to deliver on a mission – to provide patients with excellent, comprehensive, and compassionate care delivered with respect and honesty.
What is the status of the Project?
The final prototype and wireframe are delivered to the client. The IT team at SFM is developing the final product scheduled for release in May 2020.
You can see the updated website here
Objectives
Our UX design team is tasked with conducting the research and developing a modern-looking user-centered and intuitive website redesign to bring SFM into the 21st Century digital arena to assist with recruitment and retention of new patients.
Design Goals
Attract and retain new patients
Intuitive user experience
Easy access to information
Save staffs' and patients' time

We conducted Usability Testing and Comparative/Competitive Analyses, developed the User Journey Map on the existing website, and conducted a comprehensive Online Survey to discover the pain points and develop solutions.

Business analysis the first step in our discovery phase. We intend to answer questions such as:
What are your company's values and mission?
How does this project contribute to the goals?

Is this the right time for your company to be pursuing this project?
Interview with Staff
Our team interviewed staff at SFM who mainly deal with new patients in order to get a better insight into the problems currently faced by staff and new patients.
We Learned:
patients do not use the online schedule appointment platform
patients are reluctant to review the FAQ section of the website
Staff have to spend too much time on the phone with patients
Staff lose valuable time that could be spent on patient care
Company Mission:
Providing excellent, comprehensive and compassionate family medicine to the patients.
I realized that part of the problem is that staff do not believe the existing website can deliver patients' needs as they find it not compassionate to refer patients to a website that is less than excellent.
We need to not only take input from staff for our design and design an excellent website but also, we need staff to be on board our design decision and truly understand our methodology and design decisions so that they can believe in the value of the website and feel comfortable referring patients to the website.
Online Survey & Major Outcomes
Insights from the Survey (160 responses)
To set the research in the right direction, our next step was to craft an online survey to research the experience of our possible users, discover their needs, and unpack the insights.
There were a total of 14 questions. We received a total of 160 responses. We followed up with 9 participants.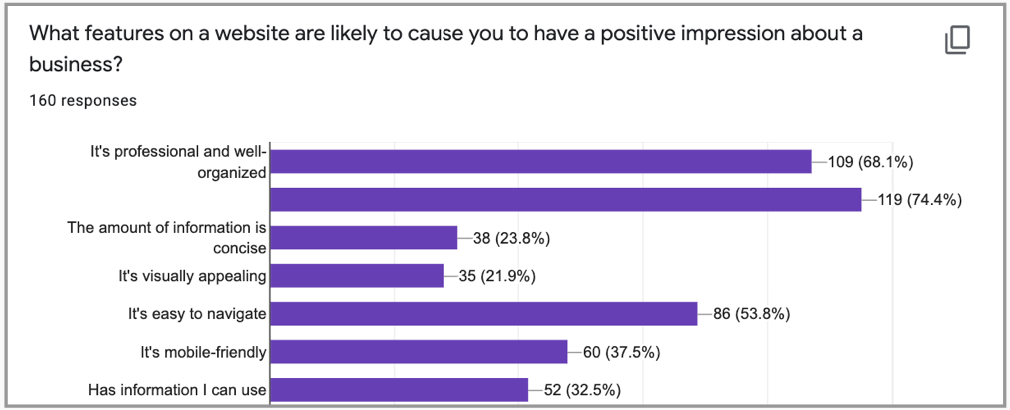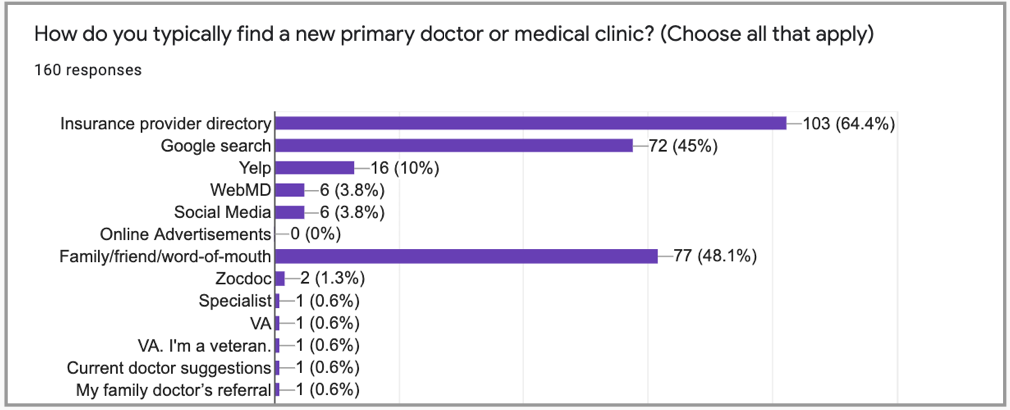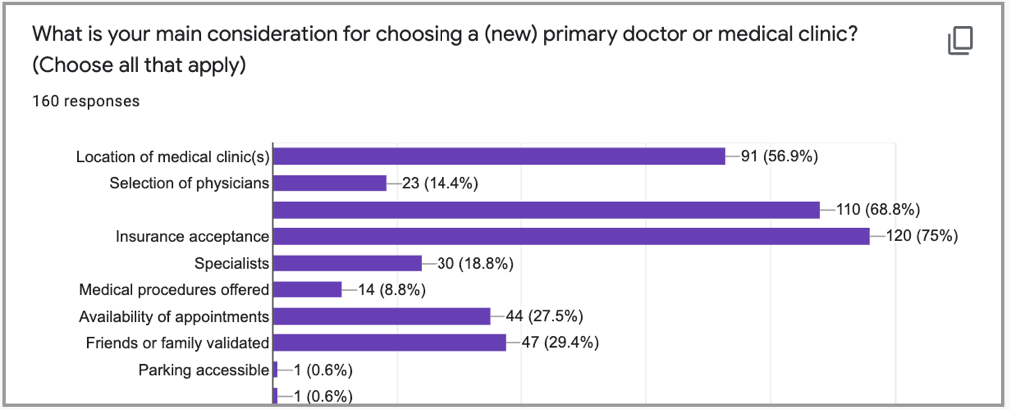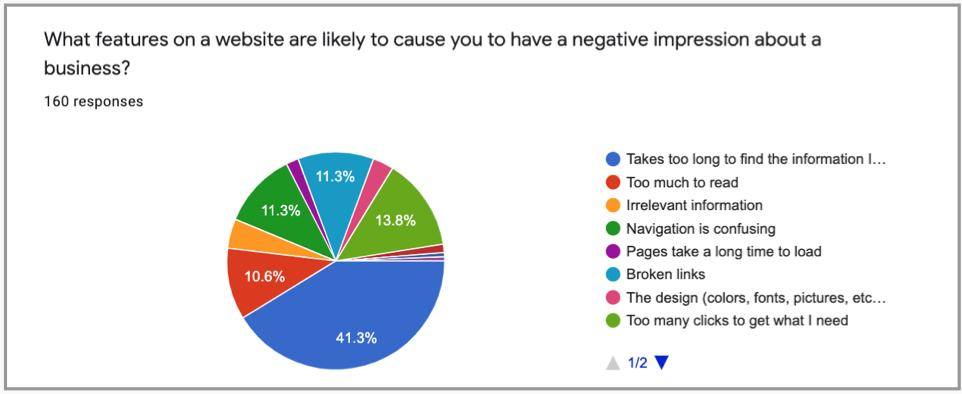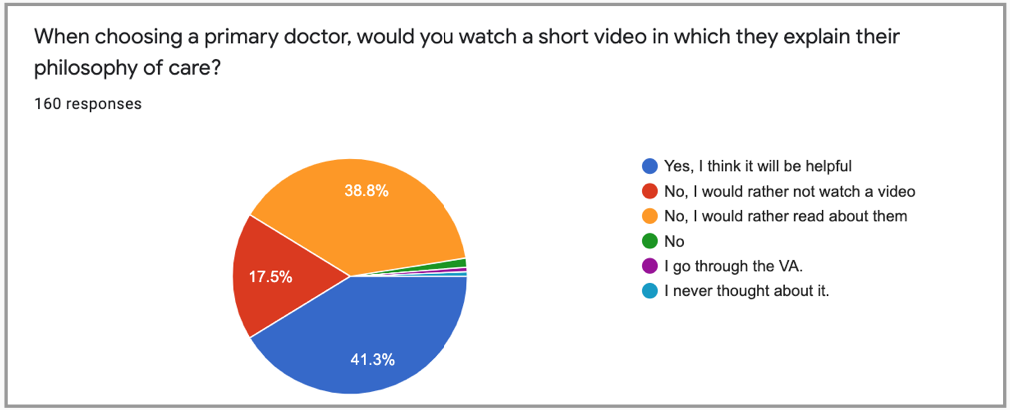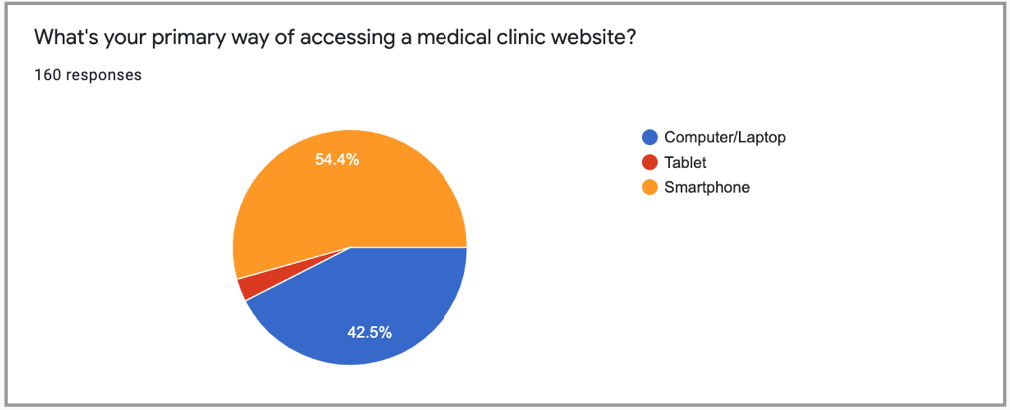 Demographics of Survey Respondents:
75% Caucasian
86% Female
79% Between 25 to 34 years old
64% Married
Major Takeaways
Typically find a new medical clinic through their insurance provider directory.
General information and clinic location is the first item looked at by the users
Insurance acceptance is the main consideration when selecting a new primary care provider.
Report positive experience when information is readily available and easily accessible on the website
Primarily use smartphones for accessing medical clinic website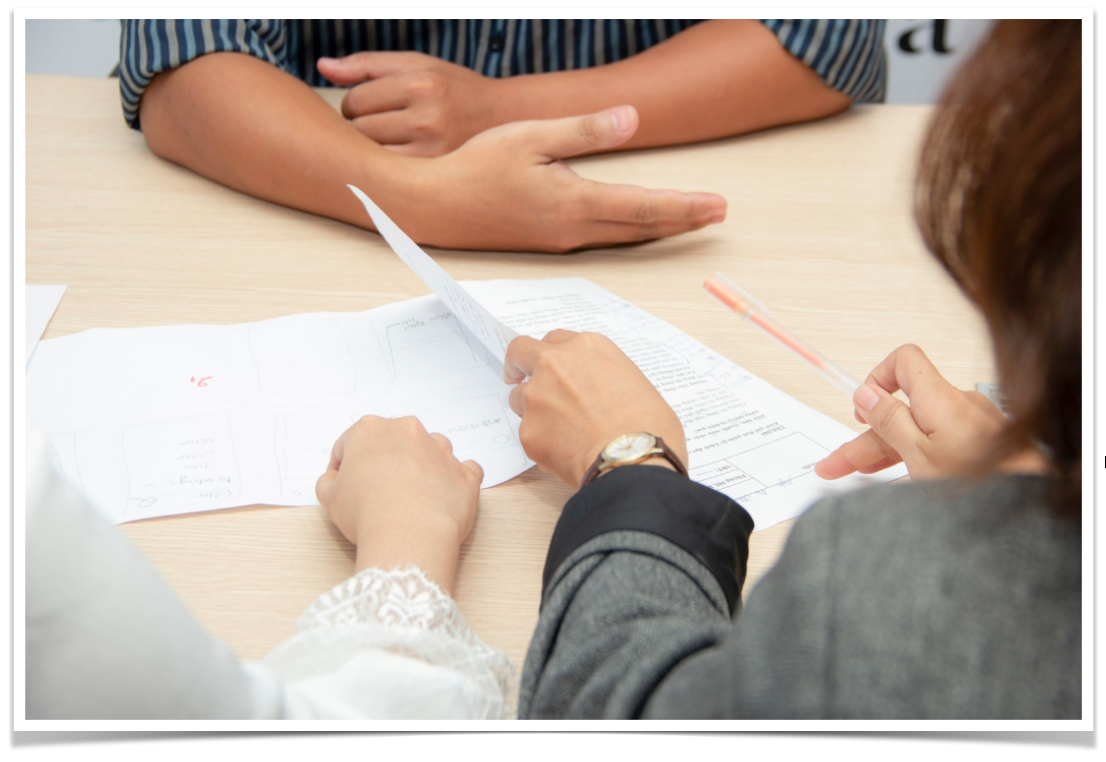 Follow-up interviews were conducted with 9 of the survey participants.
Common Responses:
"I try to find a clinic that is close, has good ratings and is a reputable establishment."
"Definitely need to be within my insurance network so it covers all costs."
"Ratings for the physicians is important to me."
"Calling to make an appointment is the easiest but online booking is also convenient."
Comparative & Competitive Analysis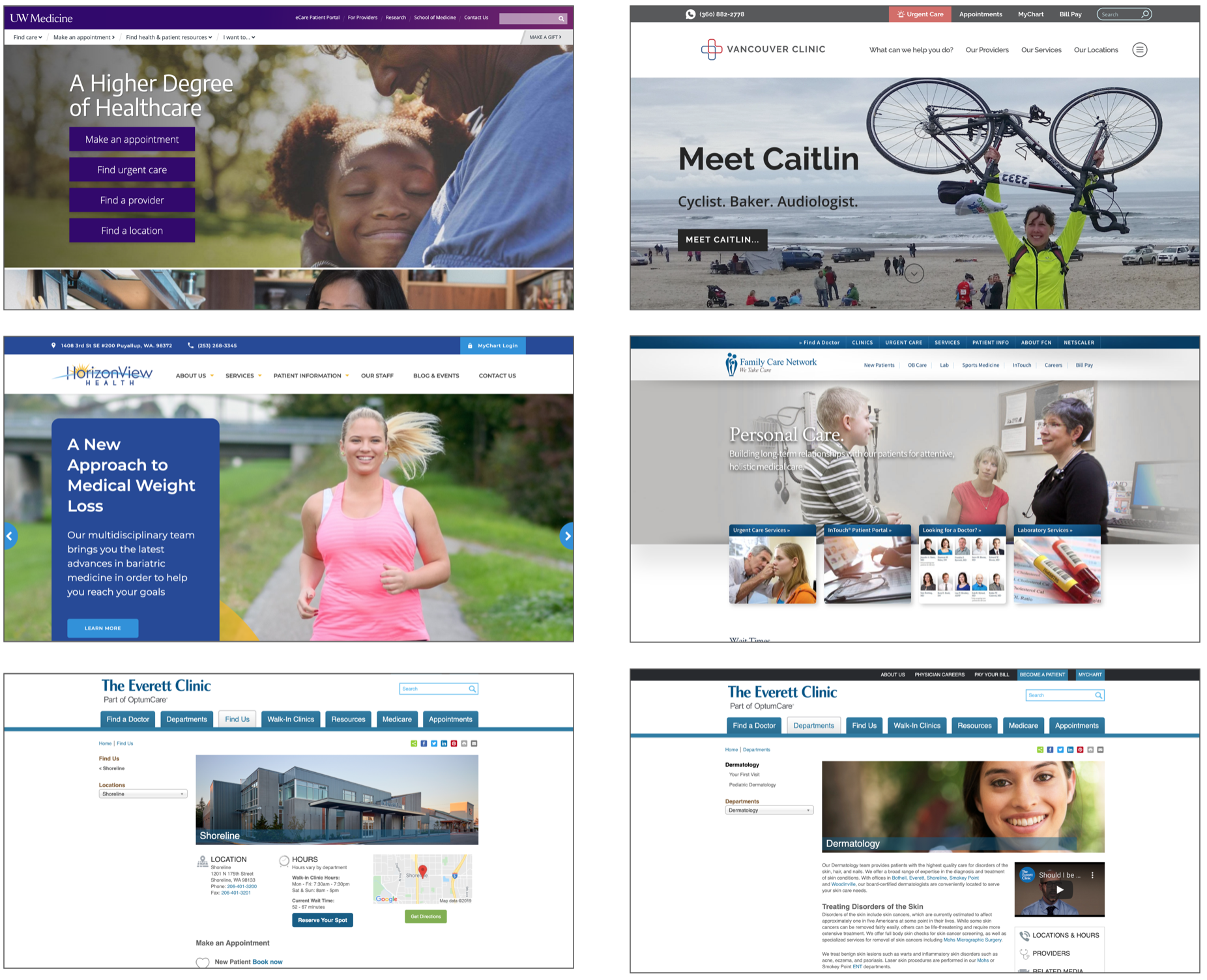 Why side-by-side landing page comparison?
Learn which features were the most common on the home page
Figure out how other clinics prioritized their content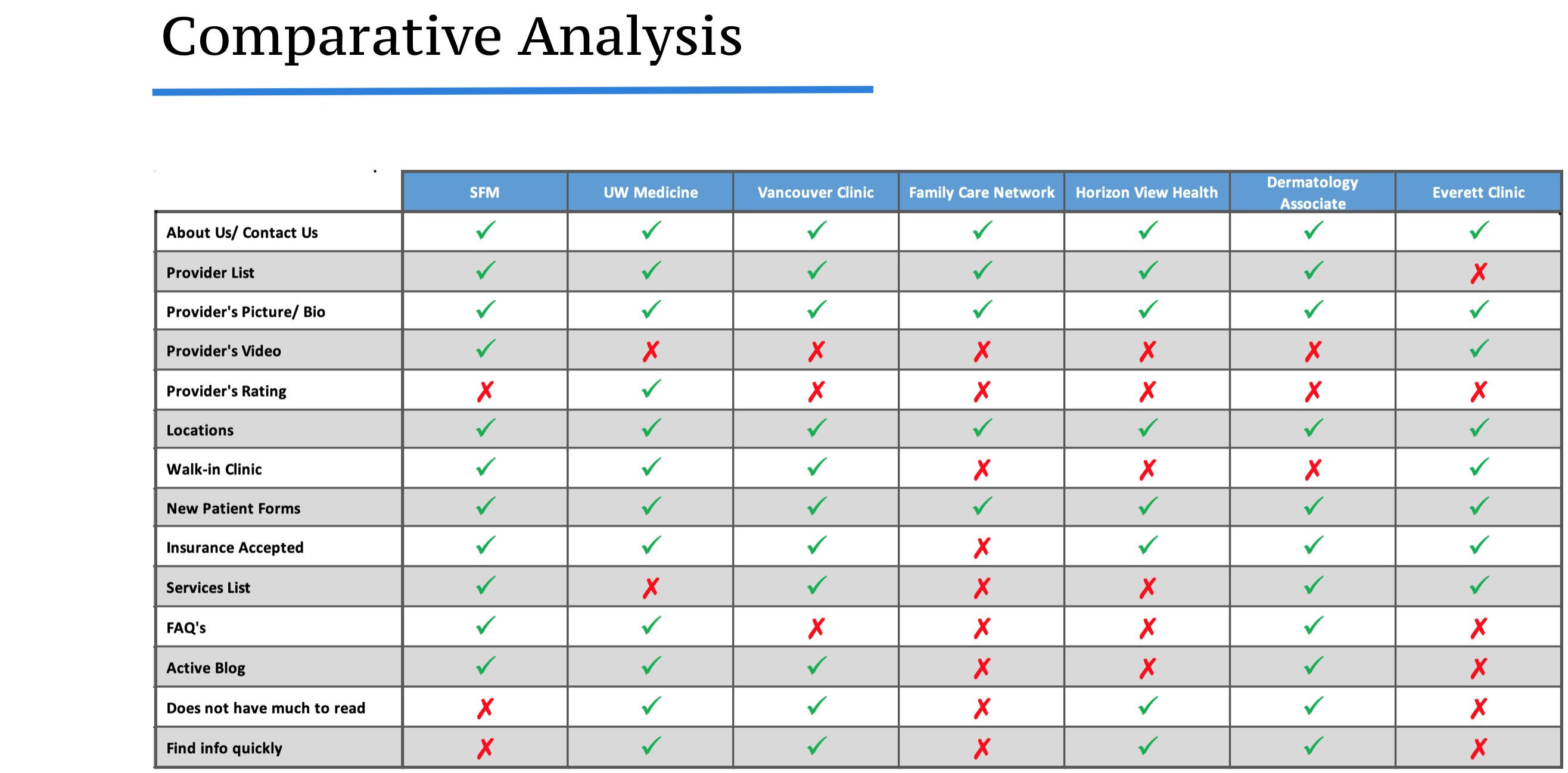 We compared the information architecture and presentation of the comparative website:
Major Areas for Improvements:
Developing easy navigation.

Reducing wordiness, cutting down on long descriptive paragraphs in favor of short concise and summarized sentences.

Adding a provider's rating, and education/certifications. Many users are interested to know about the year and colleges that their doctors have attended and in the absence of this information, users seek answers on other platforms such as LinkedIn.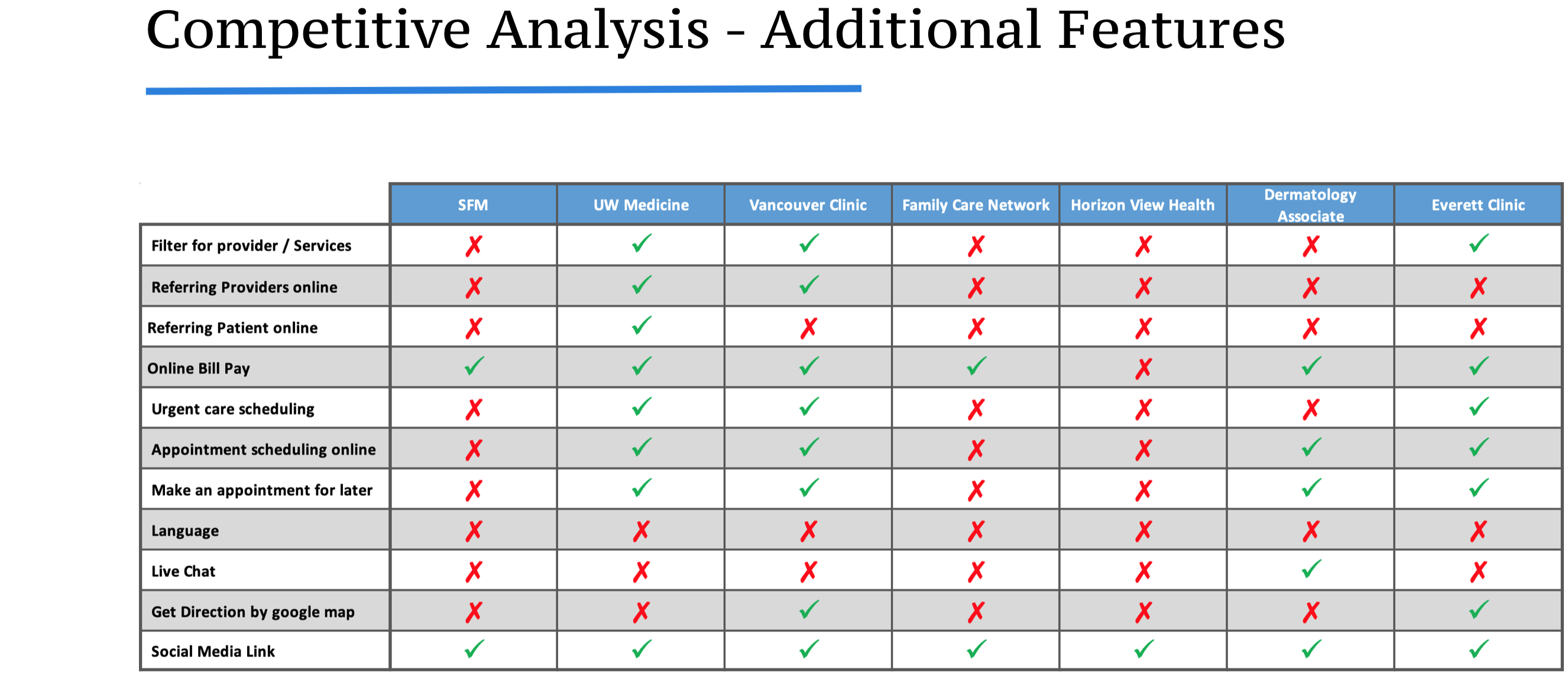 We evaluated the additional features offered by other clinics that could provide a competitive edge to our client.
Addition of new features in the future could be assumed as a next step goal to based on the user's input and thought the process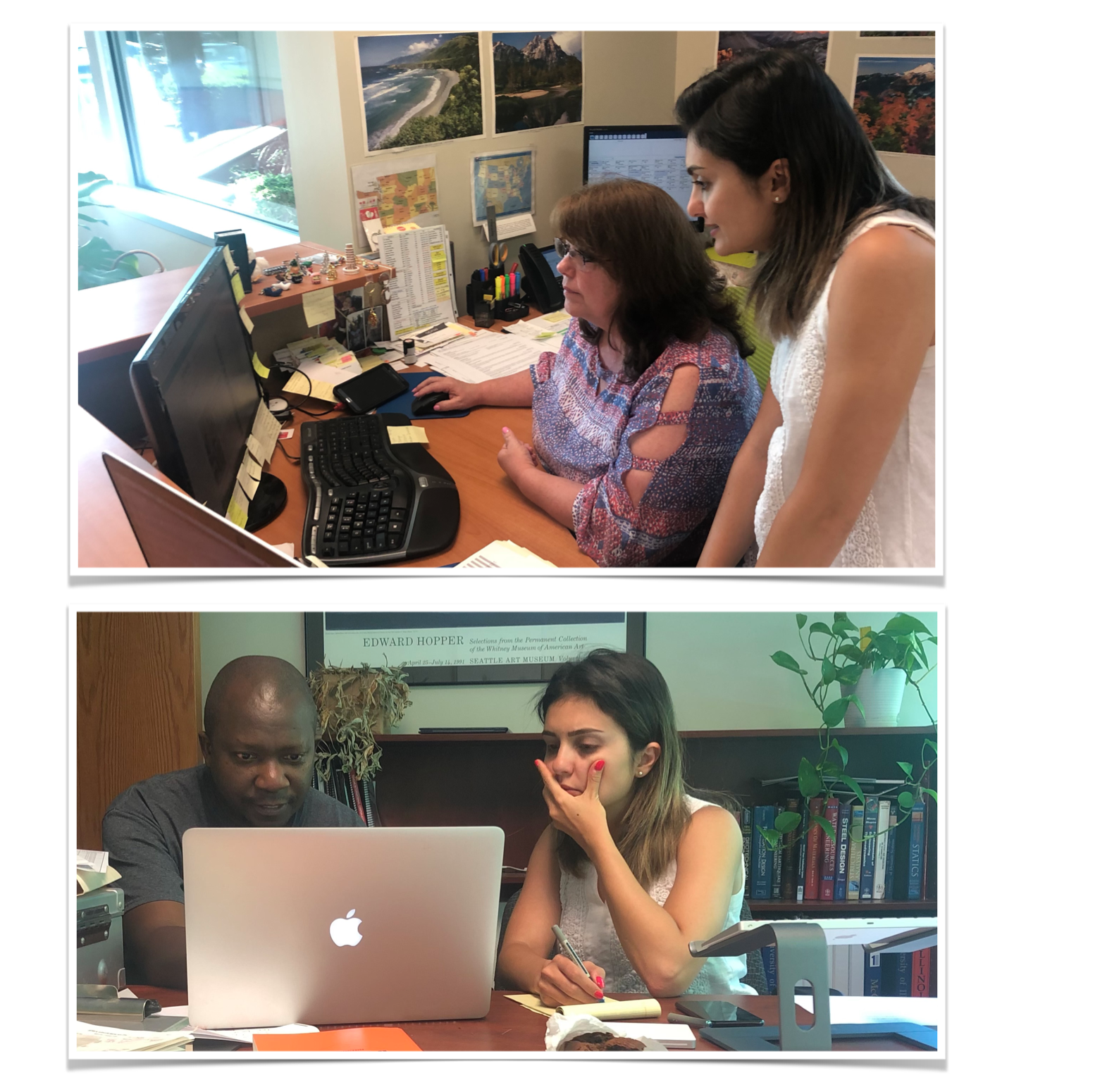 Usability Testing on Current Design

To find major issues of the current design, we ran a moderated usability test with 9 participants based on the tasks we created. We chose this method to discover where they struggled the most and to learn why.

These are the tasks participants needed to complete:

Walk me through how you would learn more about what kind of services/physicians they have at this clinic.
Inform me how you would find out if this clinic is within the network of your insurance.
Show me how you would contact this clinic using this website.
Show me how you would sign up to be a new patient.
After our research was completed, we came up with a lot of valuable data and we discovered many problems. The next step in our design process is to analyze the data and define the major design problems that should be addressed in our design. Using the data from research, I define the Persona and develop the User Journey and Scenario.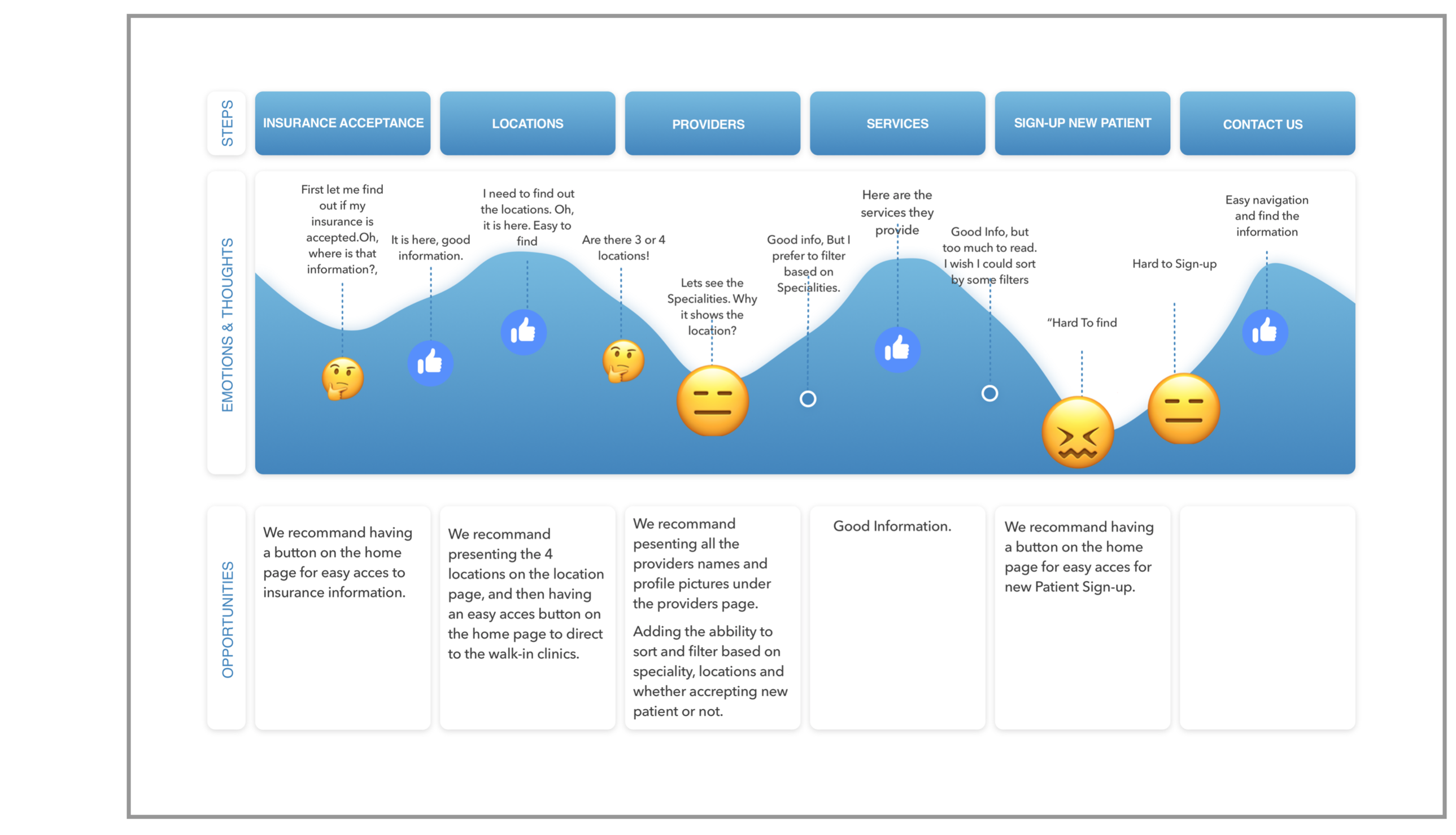 Users thoughts and feelings were analyzed while using the website
The most common first interaction is to check insurance acceptance – This information should be easily accessible.
Users look up the location and they want to find out what services are provided at each location. Also, users are confused that there are 3 locations shown on the homepage, and 4 locations are shown elsewhere.
Under the provider's page, users want to see a profile picture and some details before having to choose between locations.
Having filters that can sort providers per users' needs would be highly beneficial.
The "services" and "contact us" pages provide good information.
It is difficult to find where to sign-up for a patient profile, and the process is also not easy.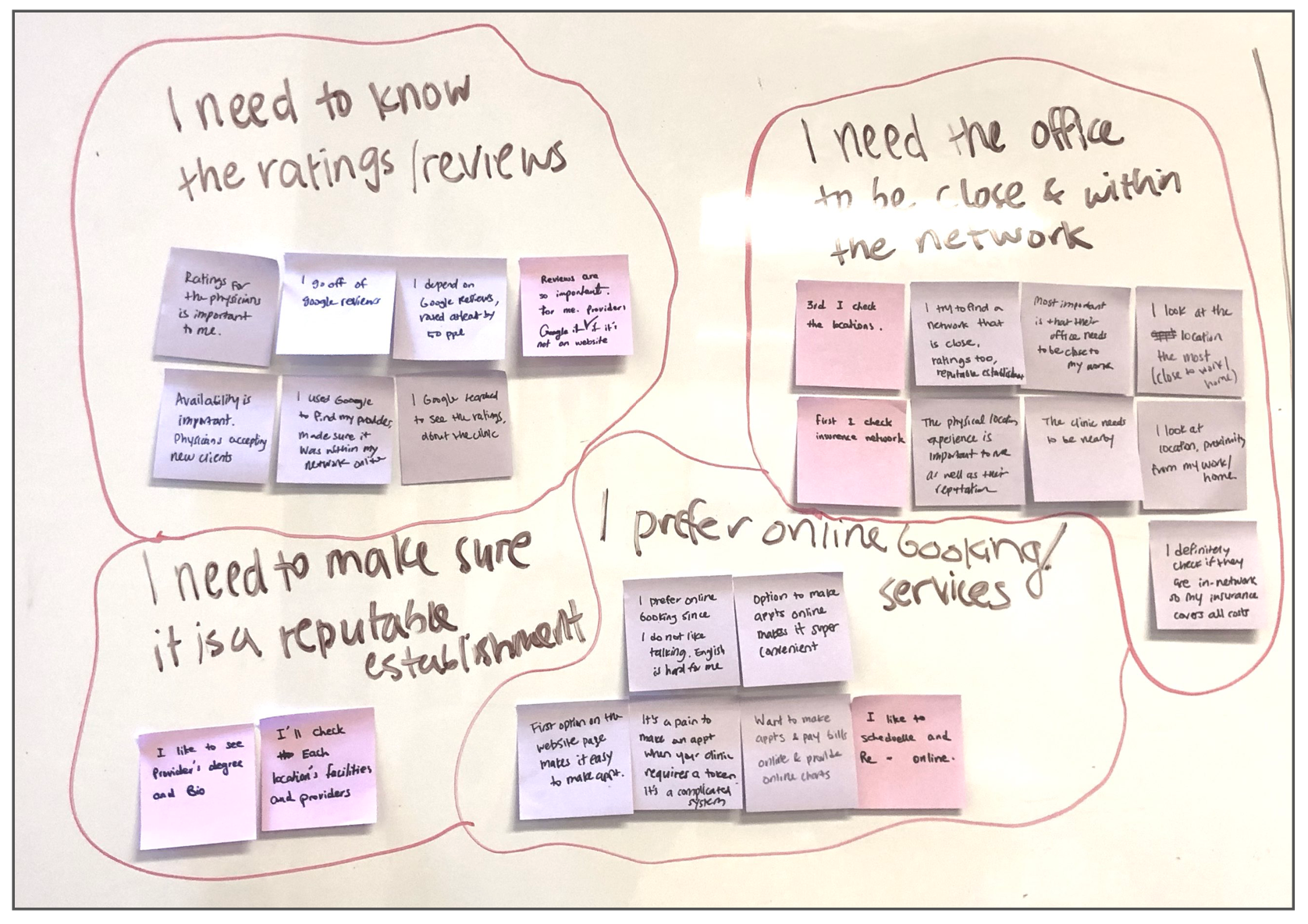 Affinity Mapping was conducted to help us catalog and categorize pain points, brainstorm possible solutions, and develop our persona.
Common User Needs and Pain Points:
I need the clinic to be within my network.
I need the doctor's office to be close to my work or home.
I need to know the ratings and reviews of the place and the physicians.
I prefer online scheduling and services.
I need to make sure it is a reputable establishment.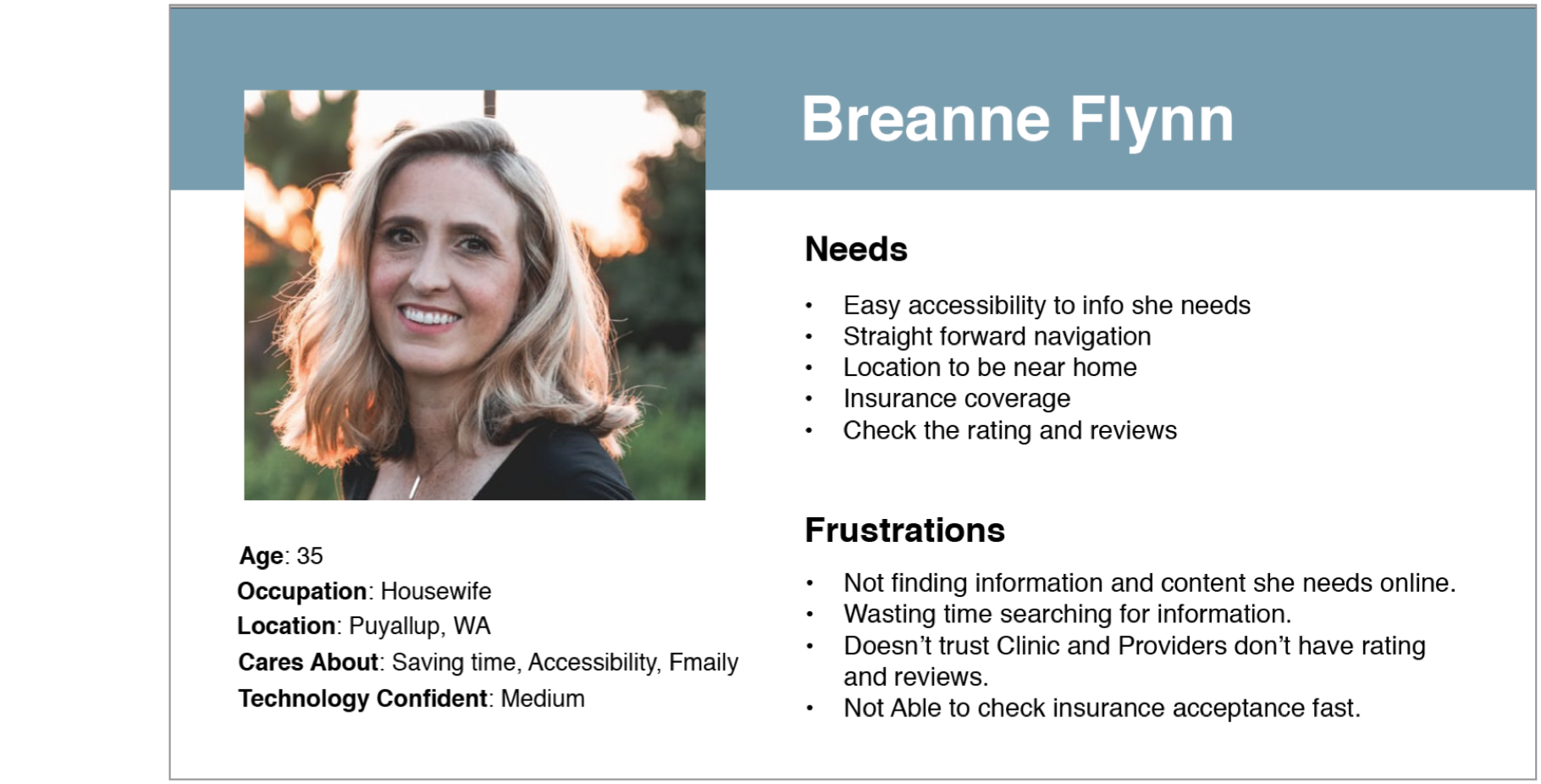 The persona is defined based on the data gathered during the discovery phase.
The website will be redesigned based on Kate's needs and preferences.
Meet Breanna
Breanne is a 35 year old mother of a 2 year old daughter. She is a housewife. It is important for her to be able to complete tasks online without spending too much time online.

According to what Breanne want
we develope our idea to start our design process. For developing the idea we considered A Scenario to respond to our Persona's needs, and we conducted the user flow to show her journey through browsing the website.

User Problems
Can't easily check if the clinic is within their insurance network
Difficult to browse through available physicians
Don't know how to sign up as a new patient through the website

Make sure it is a reputable establishment
Solution
Re-evaluate the current website with usability testing.
Re-assess user experiences with medical clinics in general, navigating through the website, making appointments, etc.
Design the Sound Family Medicine's website by prioritizing users needs (from the new patient's perspective):
Being able to find the information easily (available physicians, general info, location)

To check the clinic is within their insurance network fast.
Clear guidance and easy navigation.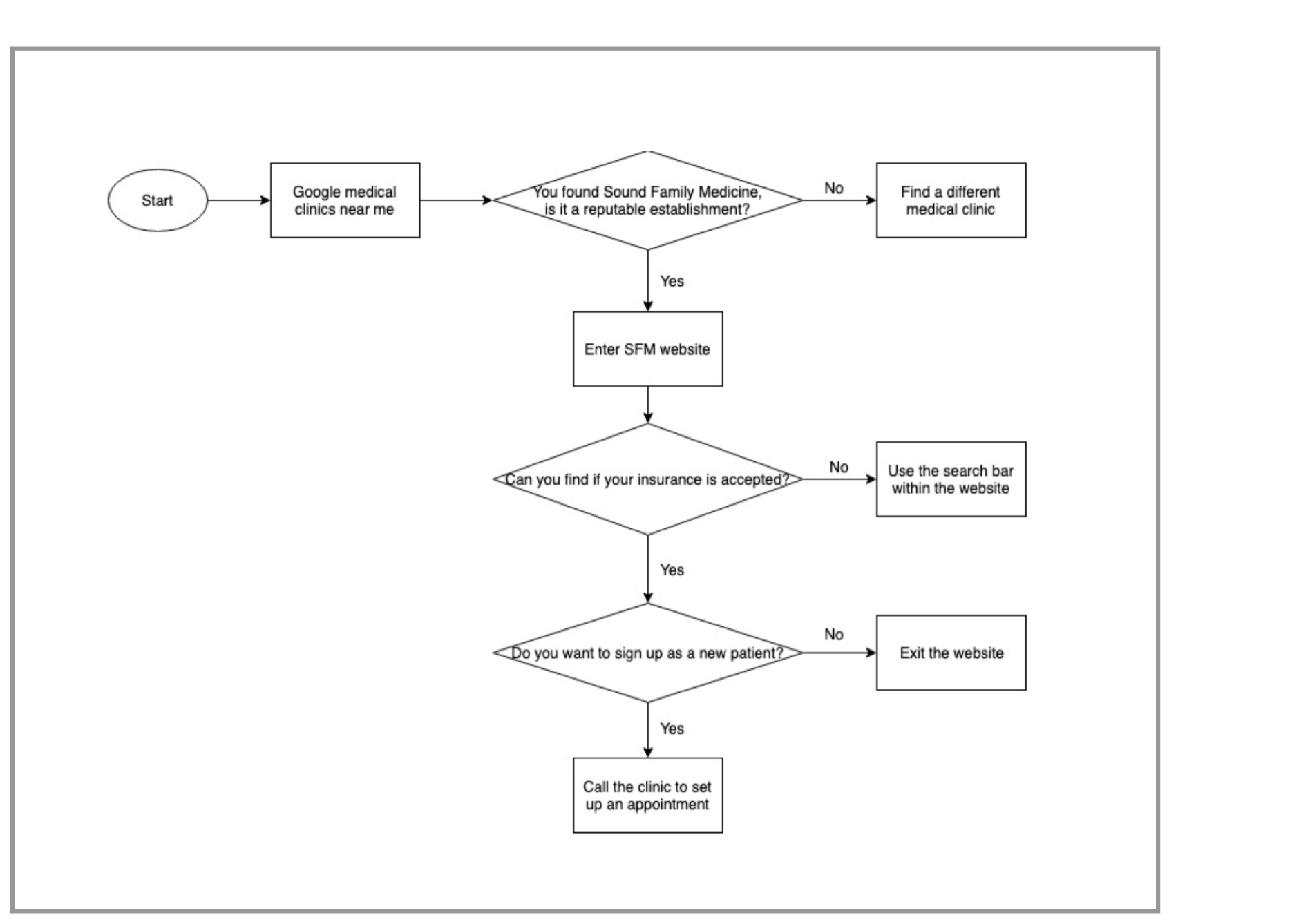 Scenario
Breanne just moved to Puyallup, WA with her husband and has a new baby on the way in 6 months. She is looking for a new medical clinic within their insurance network, close to home, and a reputable establishment with good reviews & ratings. She wants to check if the clinic accepts her insurance easily on the website and guidance on how to sign up as a new patient without spending too much time on the website to get the information she needs.
Information Architecture
(Card Sorting, Site Map)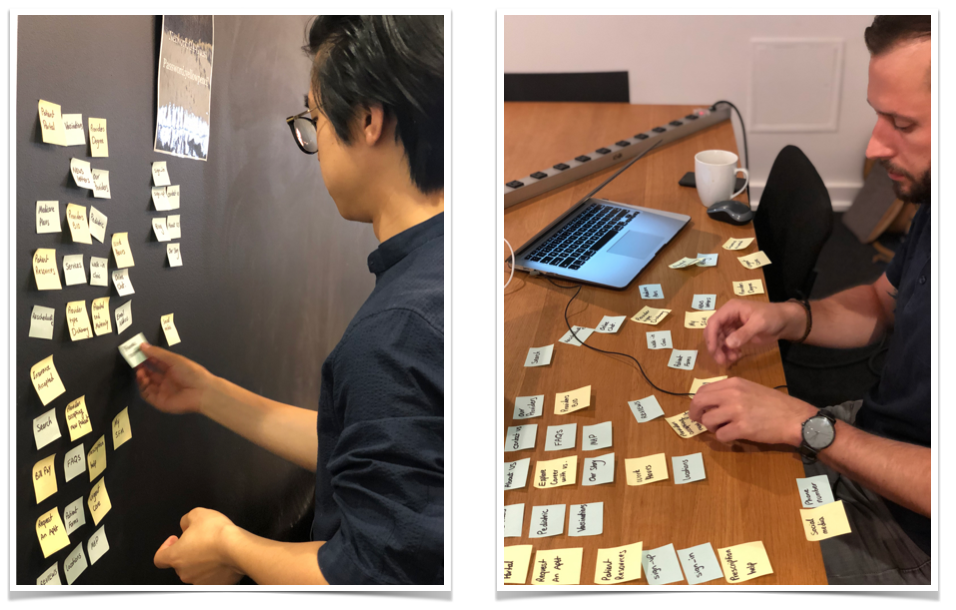 Card Sorting
We conducted both open and closed card sorting to see how our potential users categorize.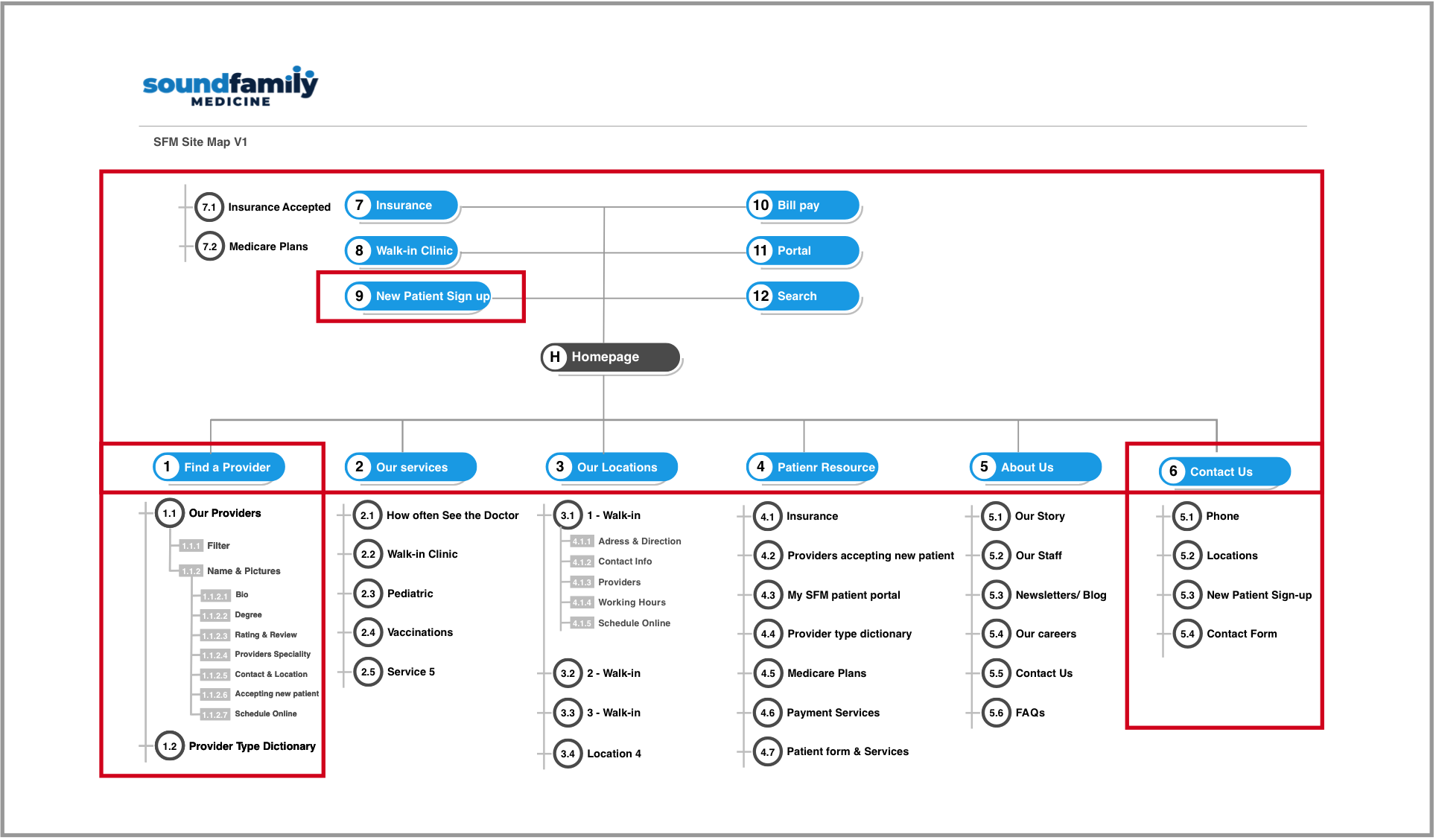 Sketches, Wireframes, and Iterations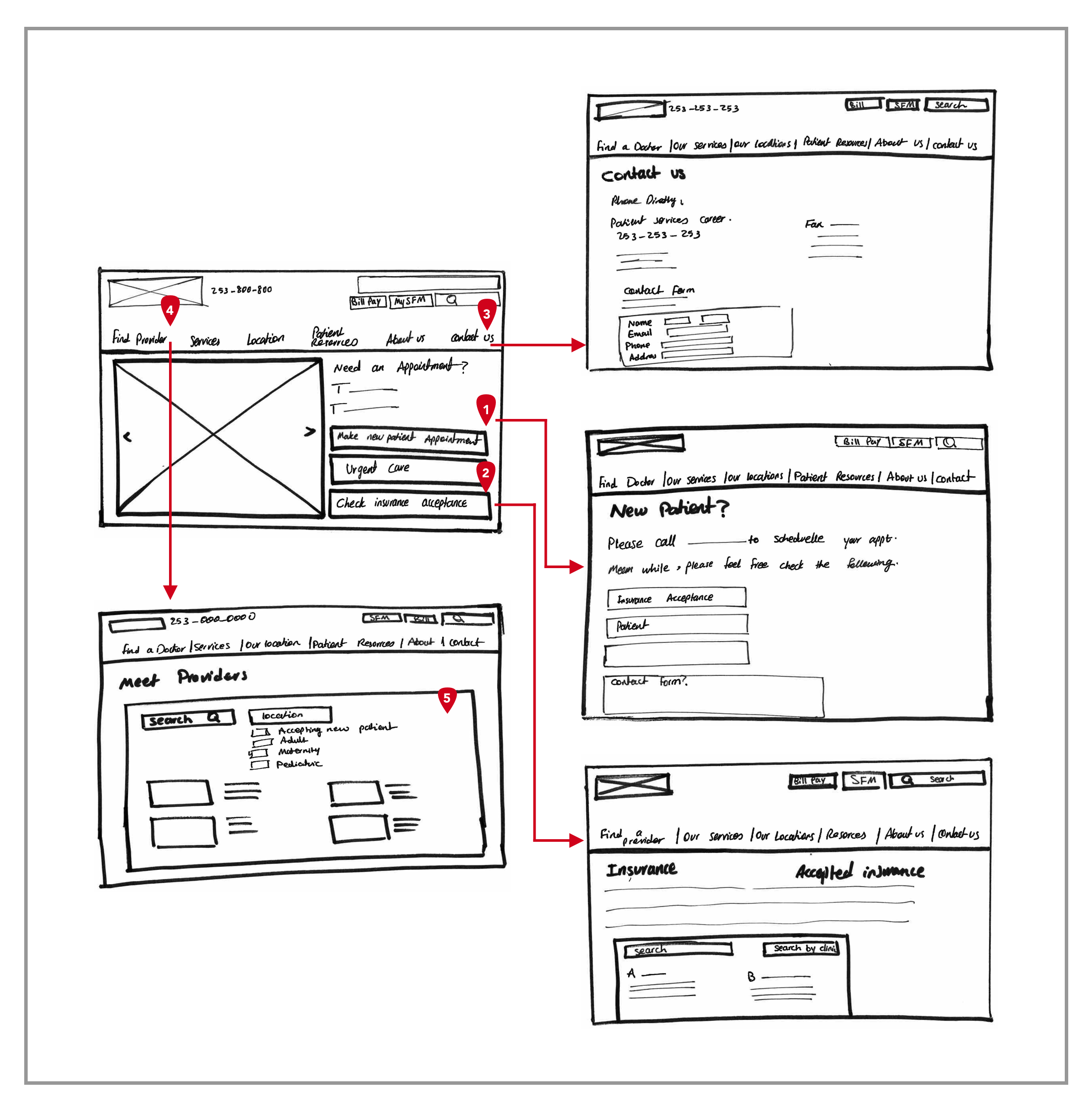 Usability Testing Findings

Designed based on discoveries through user research findings and usability testing:
Clear guidance on where to call to make an appointment as a new patient
Easy access to checking insurance acceptance
Search bar feature moved to top right
Providers page and locations page is separated
Filter function available when sorting for providers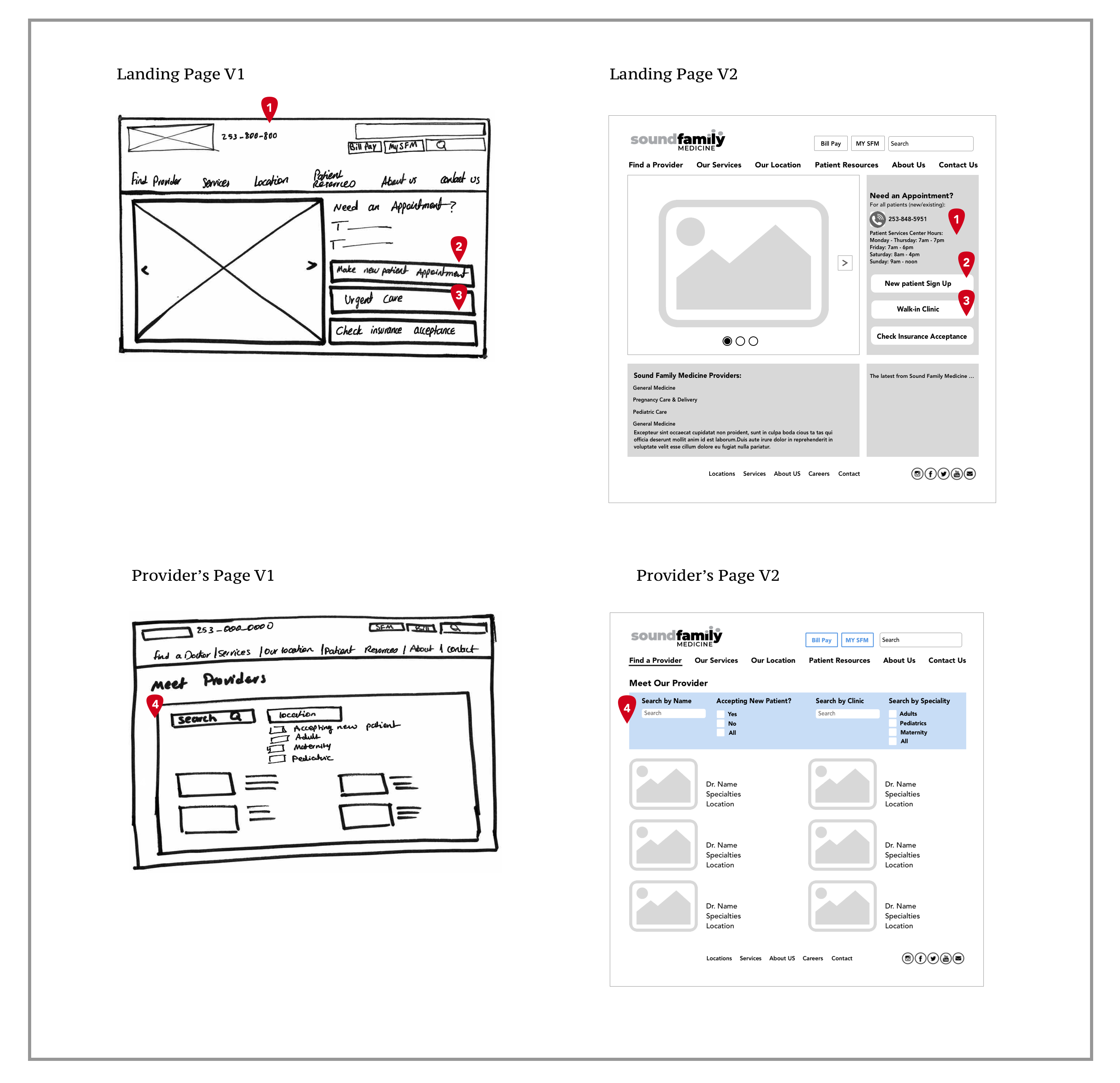 Usability Testing Findings
Did not notice the phone number by the logo to contact, unclear on where that number will direct.
"Make a New Patient Appointment" button was not noticeable, users looked for wording like "Sign Up" instead
SFM doesn't really provide "Urgent Care"
Wanted a more specific way to filter providers depending on their needs and availability
Iterations
Removed phone number next to the logo to the content area with clear wording
Changed the wording of "Make a new patient appt" to "New Patient Sign Up"
Learned that there's no Urgent care offered by Sound Family Medicine, so changed to "Walk-in clinics button"
Filter function on the "Provider" page is more refined (too many checkboxes on the first designed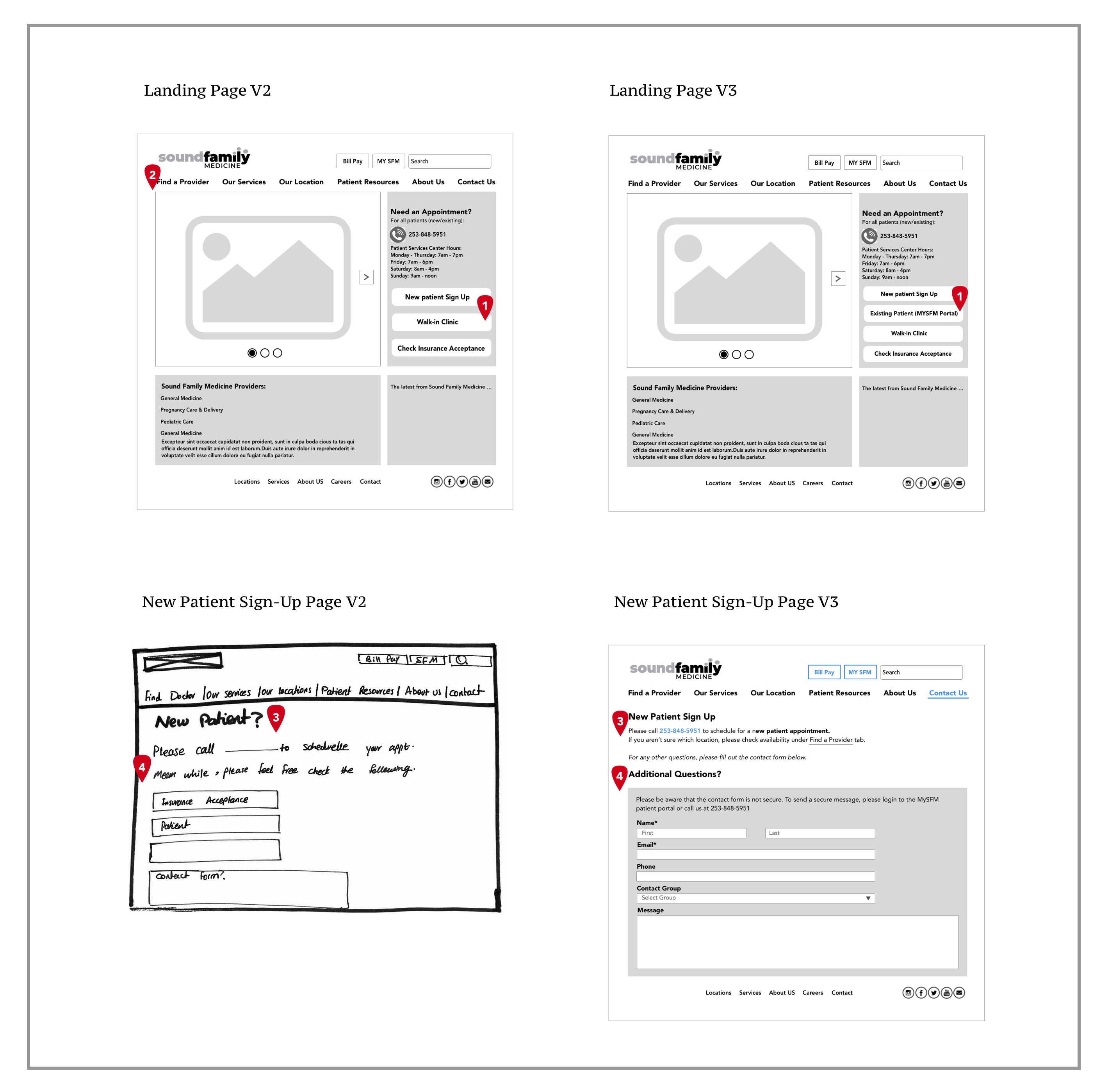 Usability Testing Findings
"Find a Provider" sounds like a list of clinics instead of physicians or doctors.

Mistaken "Contact Form" under "New Patient Sign Up" as a way to sign up.
Iterations
After discussing with the client, they still wanted to have an easy-access button for the existing patient next to the new patient button
"The term "provider" brought confusion to users, not knowing that it referred to the physicians. The client insisted they think about changing the term since it's difficult to pin it as "physicians" or "doctors"
Styles of the fonts changed to draw attention
The wording of "Contact Form" changed to "Additional Questions?" so that it's not confused for a sign-up form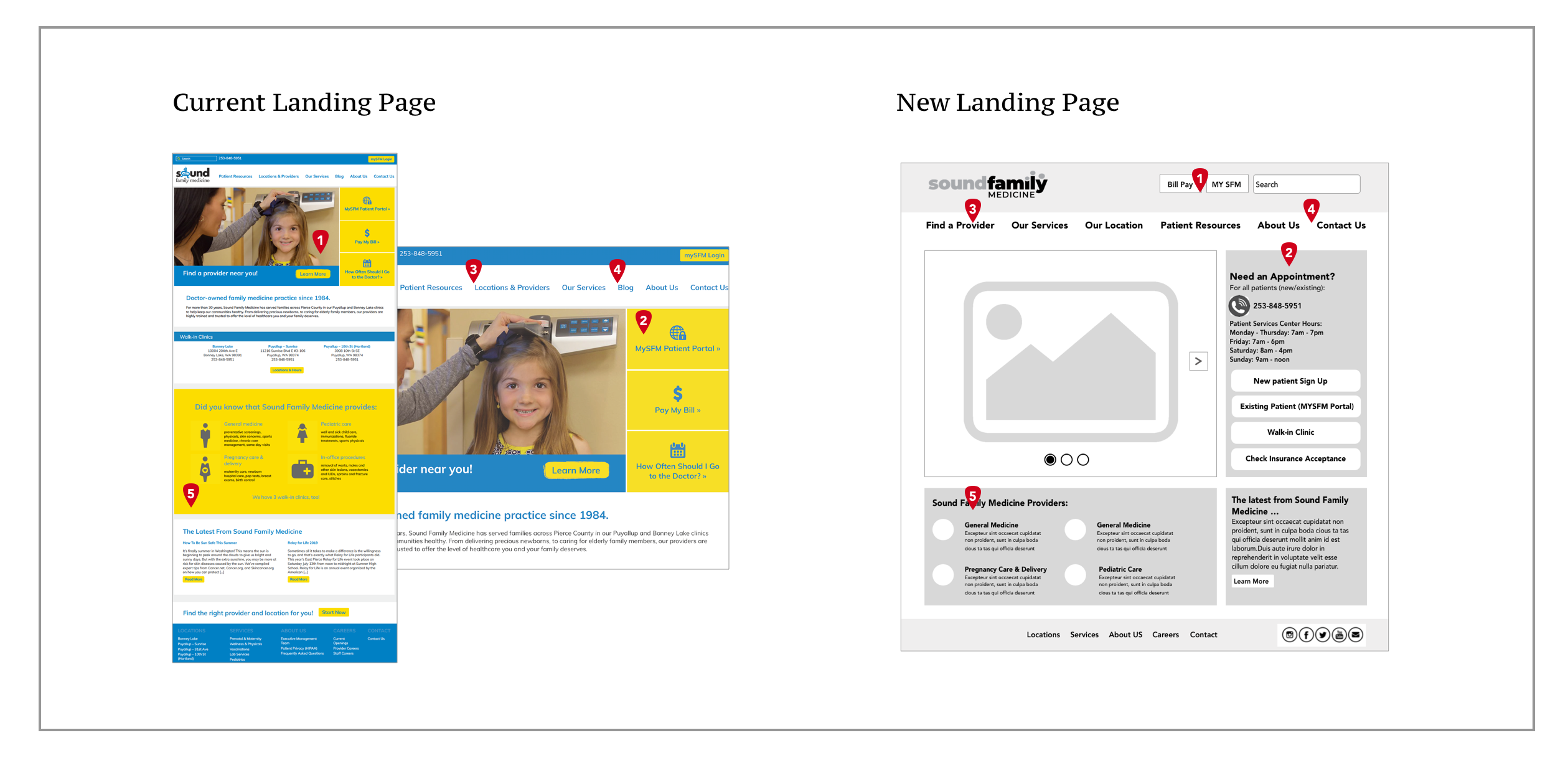 What are the major things that changed?
Footer of the landing page changed: search bar moved to the right side, "bill pay" button moved from the content, "MySFM" button added to the top as well as it's still included in the content
Content next to the images completely changed: contact info is prioritized, new patient sign up button, existing patient button, walk-in clinics button, check insurance acceptance button is all pulled out on the landing page so it's only one click away
Find a provider and locations are separated, but within the provider's page you can still sort by location
The blog feature is removed from the primary navigation bar as through our survey results, less than 10% was interested in looking at this section out of 160 participants.
The content below the fold was minimized as we learned from the usability testing from the current existing website that 80% of the users never scrolled below the fold to look at more information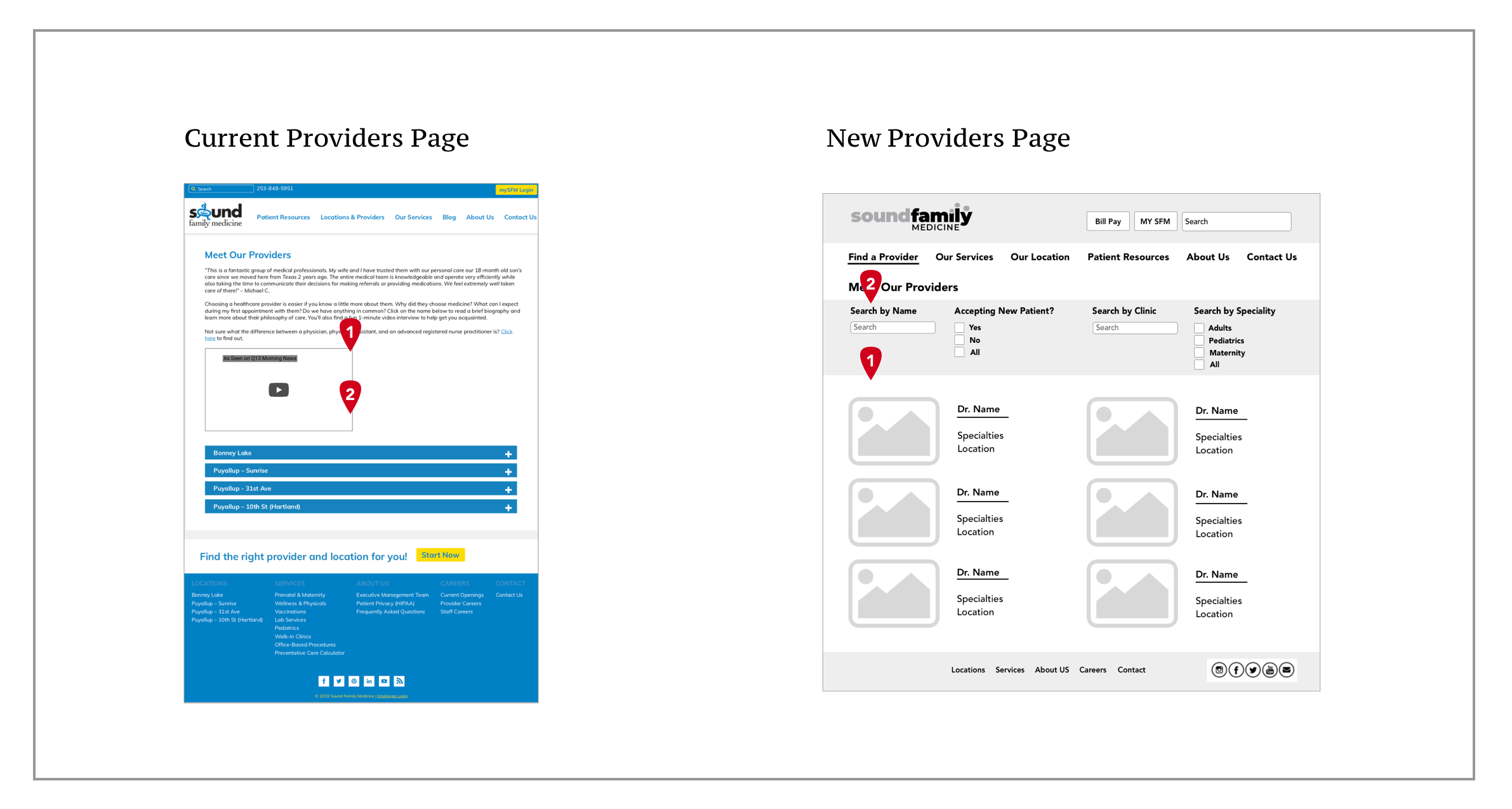 What are the major things that changed?
Content of the providers changed from a video to arrays of doctors and nurses
Instead of a drop-down menu for every location, filter function on the top allows you to display providers depending on your wants and needs
How We Solved the Problem
Easy navigation
Clear guidance on finding information
Feature prioritization, content organization
Measured how long it takes to do the same tasks with current existing website vs. new design, seemingly improved
Recommended Next Steps
Incorporate ratings and reviews of the physicians on the website (there could be pros and cons to the business depending on the ratings)
Ability to make appointments online.
On-boarding new patients (online form submission)
Rewording "Find my provider" button to "doctors" or "physicians" for less confusion
Focus on existing patients experience on the website
Accessibility on mobile, responsive web