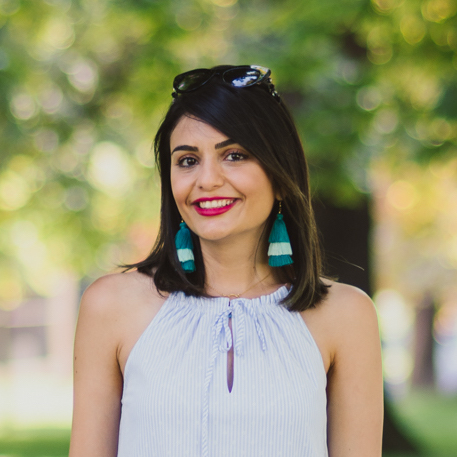 Golshid Yousefi
UX Designer
Posture Wings
Advanced Bra Performance


Website Redesign
What is Posture Wings?

Posture Wings is a revolutionary bra with patented features and advanced engineering, designed to relieve back and neck pain caused by poor posture.
What is the business status?
After over 10 years of design and development, Posture Wing has perfected their design and have done the research to prove that their design is superior to any other products out there. However, at this stage, Posture Wings has only produced 100 prototype bras and lacks the investment capital to start mass production.
Company Mission
To provide a real solution for women with back and neck pain caused by bad bras.

You can click here to check the Digital interactive prototype.


Objectives

We were tasked to design an e-commerce website as a platform for Posture Wings to directly sell their bras to customers. However, after initial ideations and development, we realized that the e-commerce platform that the client is asking us to design will not benefit our client at this stage. Our objective was re-evaluated to be designing a platform that can benefit Posture Wings in their quest to get investors and customers.
The project entailed developing a well-researched business strategy for the client that included a complete overhaul of their website to develop brand recognition and incorporate a smoke-test to be used for future decision making, marketing, and fundraising.
Design Goals
Increase awareness about the harms of bad bras
Introduce Posture Wings as the ultimate bra
Develop a database of potential customers
Attract and Recruit investors



Business Analysis
Research has shown that most women do not wear a suitable bra, therefore they are inflicting pain on shoulders, back muscles, and spine that negatively affects every aspect of women's lives.
Posture Wings revolutionary design provides comfortable support for breasts, spine, and shoulder, allows freedom of movement, and reduces bouncing.
Our client's restrictions are:

1. The client has no funding to be used in mass production and/or marketing.
2. Posture Wings bra cannot be branded as a health product due to tight regulations and restrictions governing the medical claim coding.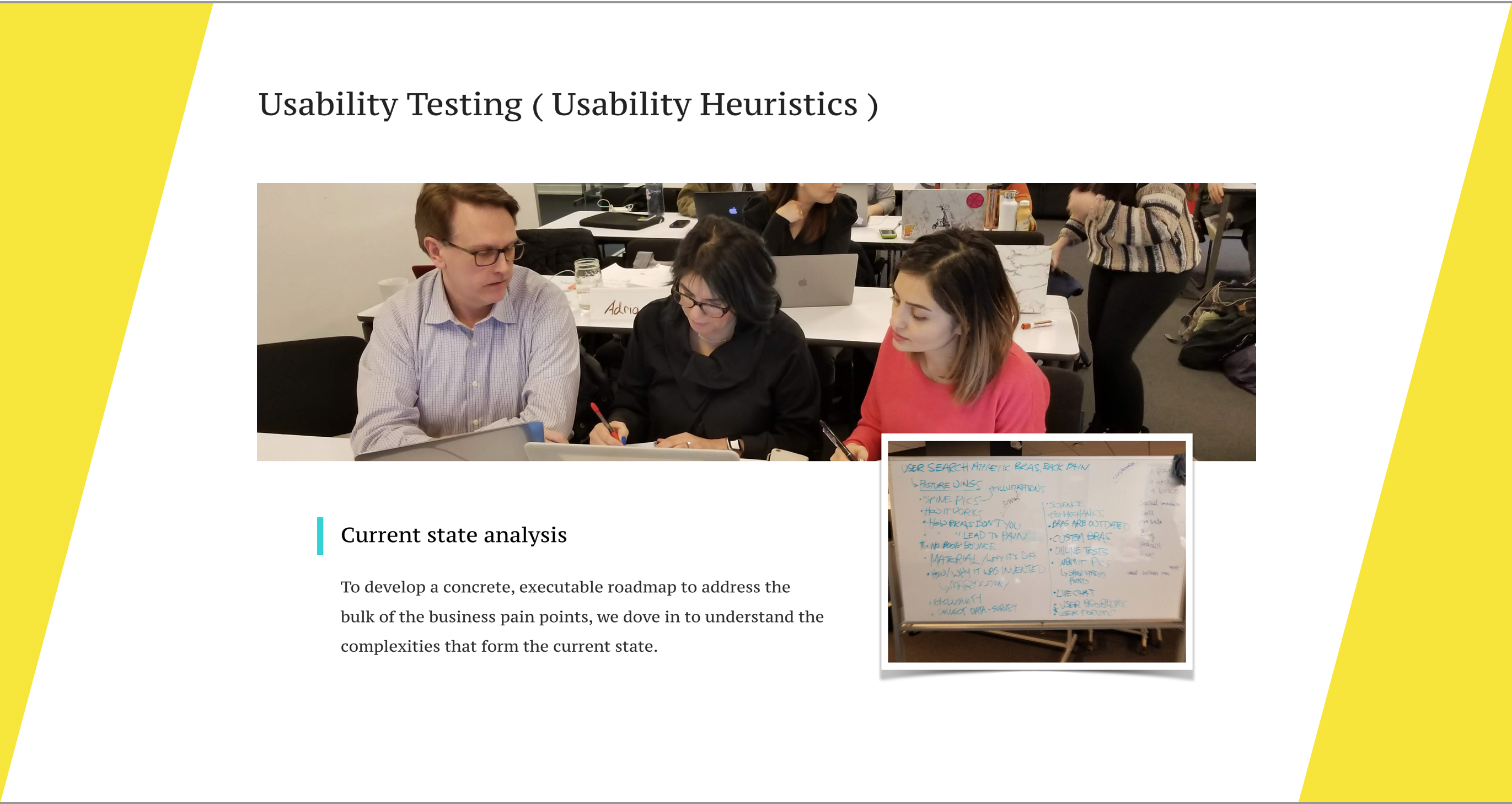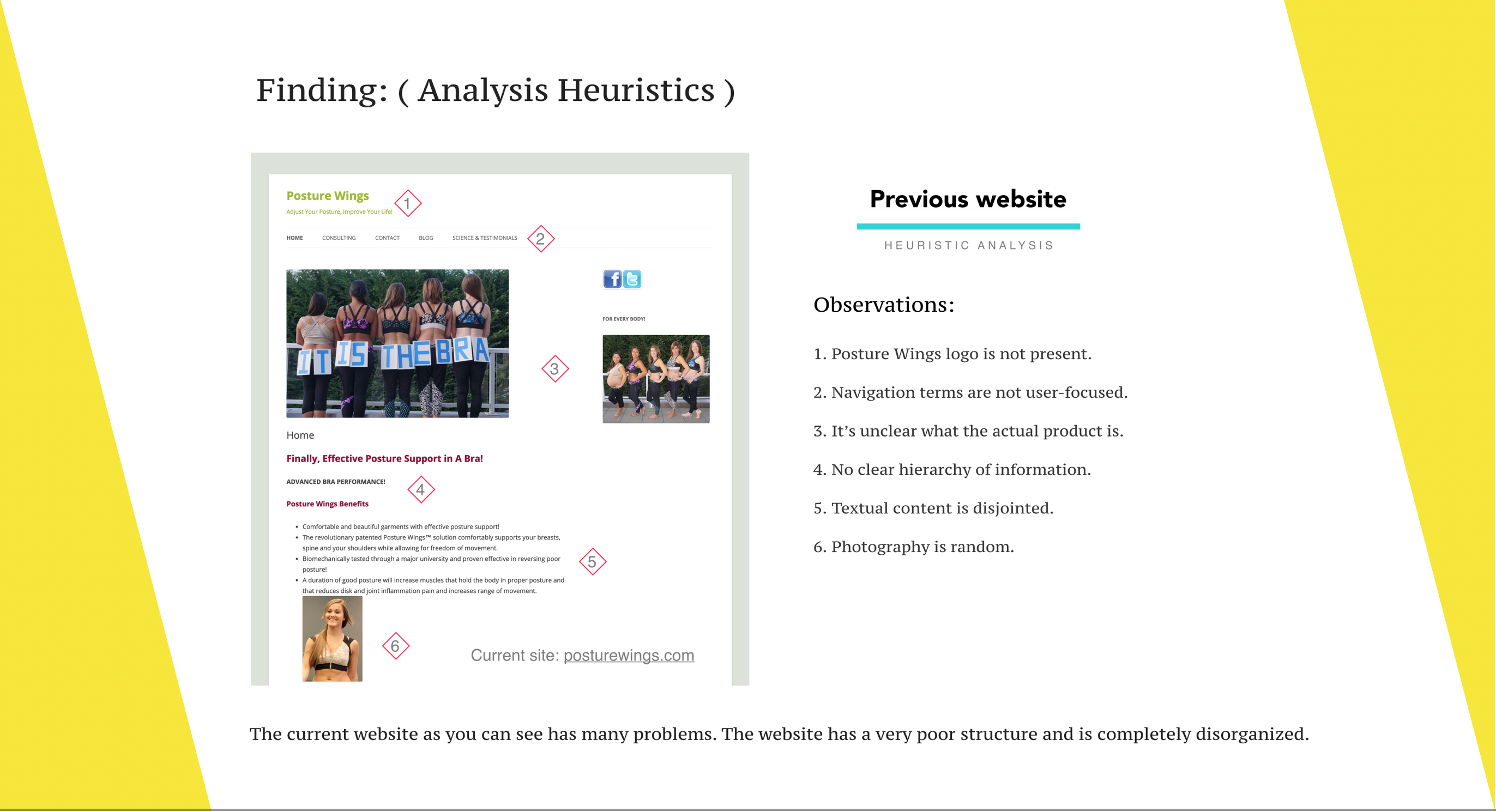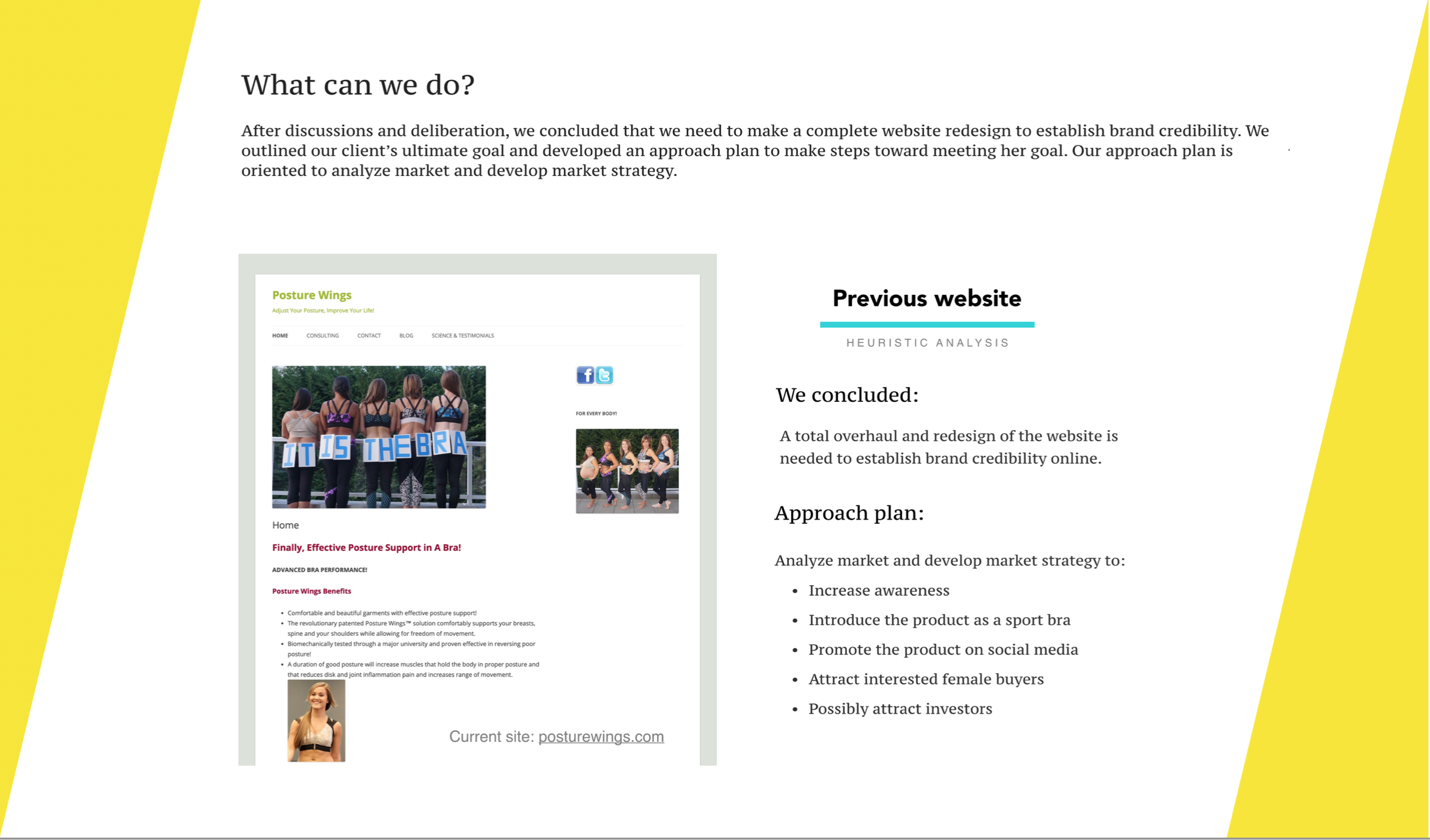 Online Survey & Major Outcomes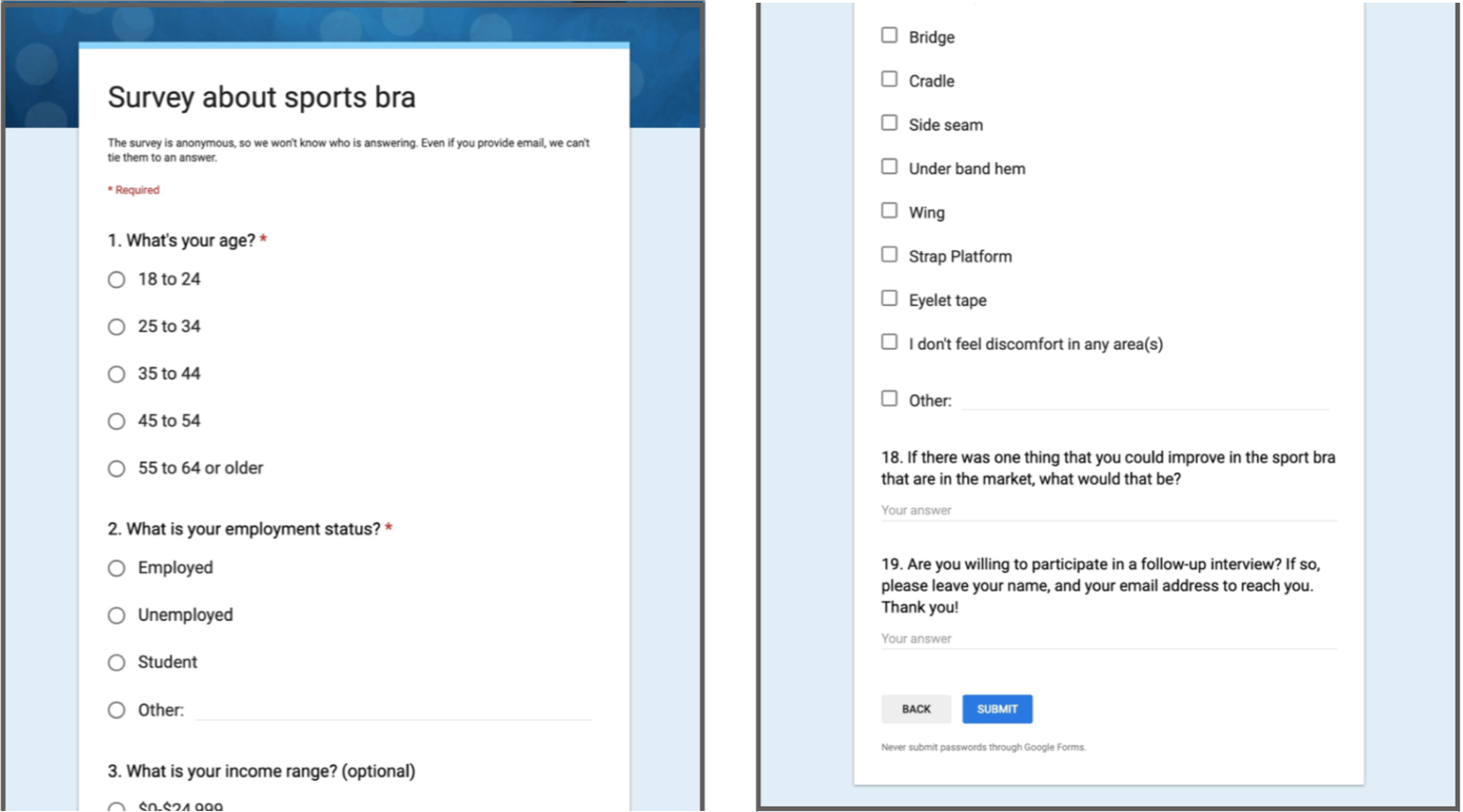 To set the research in the right direction, our next step was to craft an online survey to research the experience of our possible users, discover their needs, and unpack the insights.

There were a total of 19 questions (#5 "I don't buy sports bra" was the screener question). We received a total of 248 responses. We followed up with 11 participants.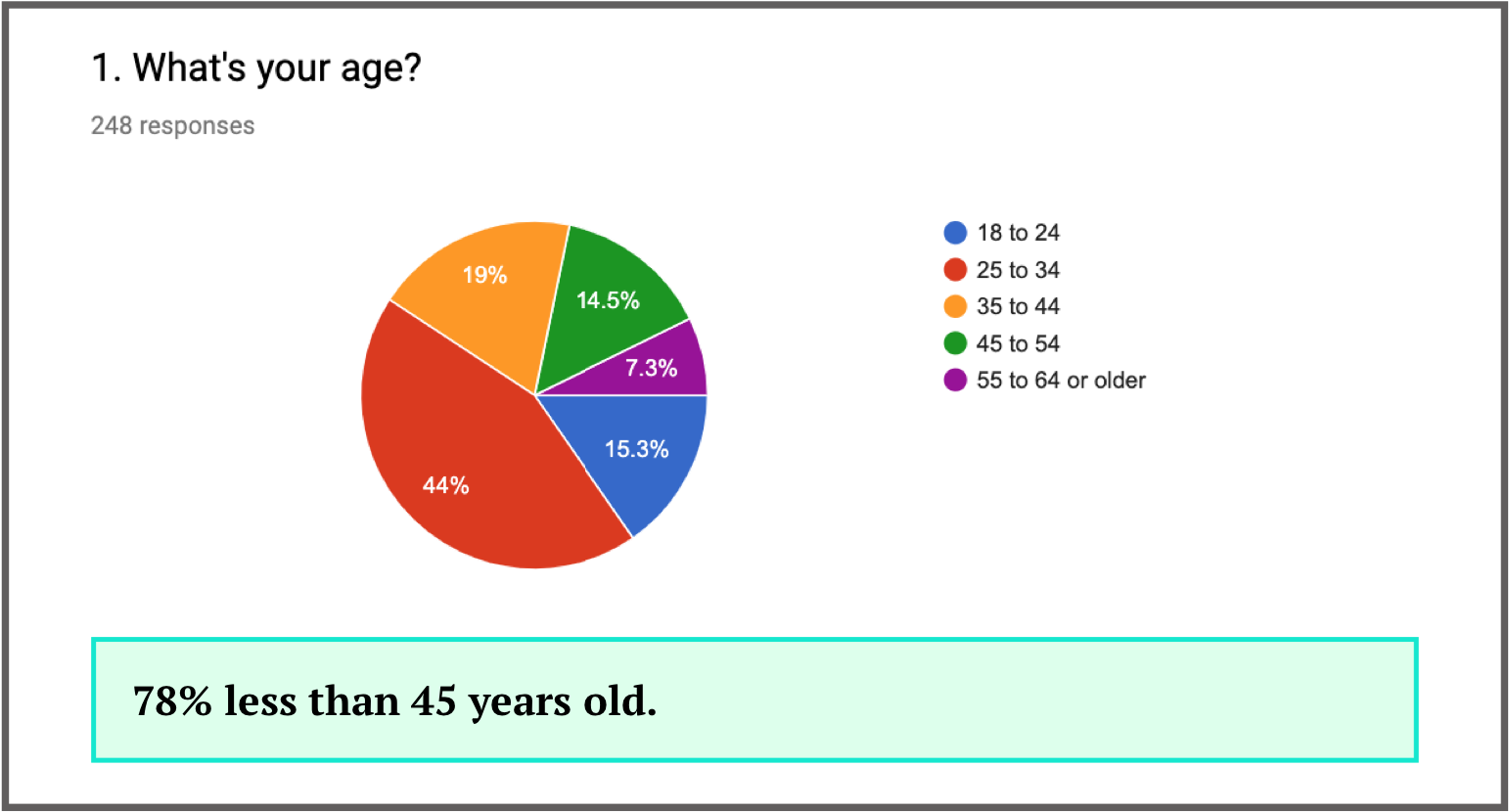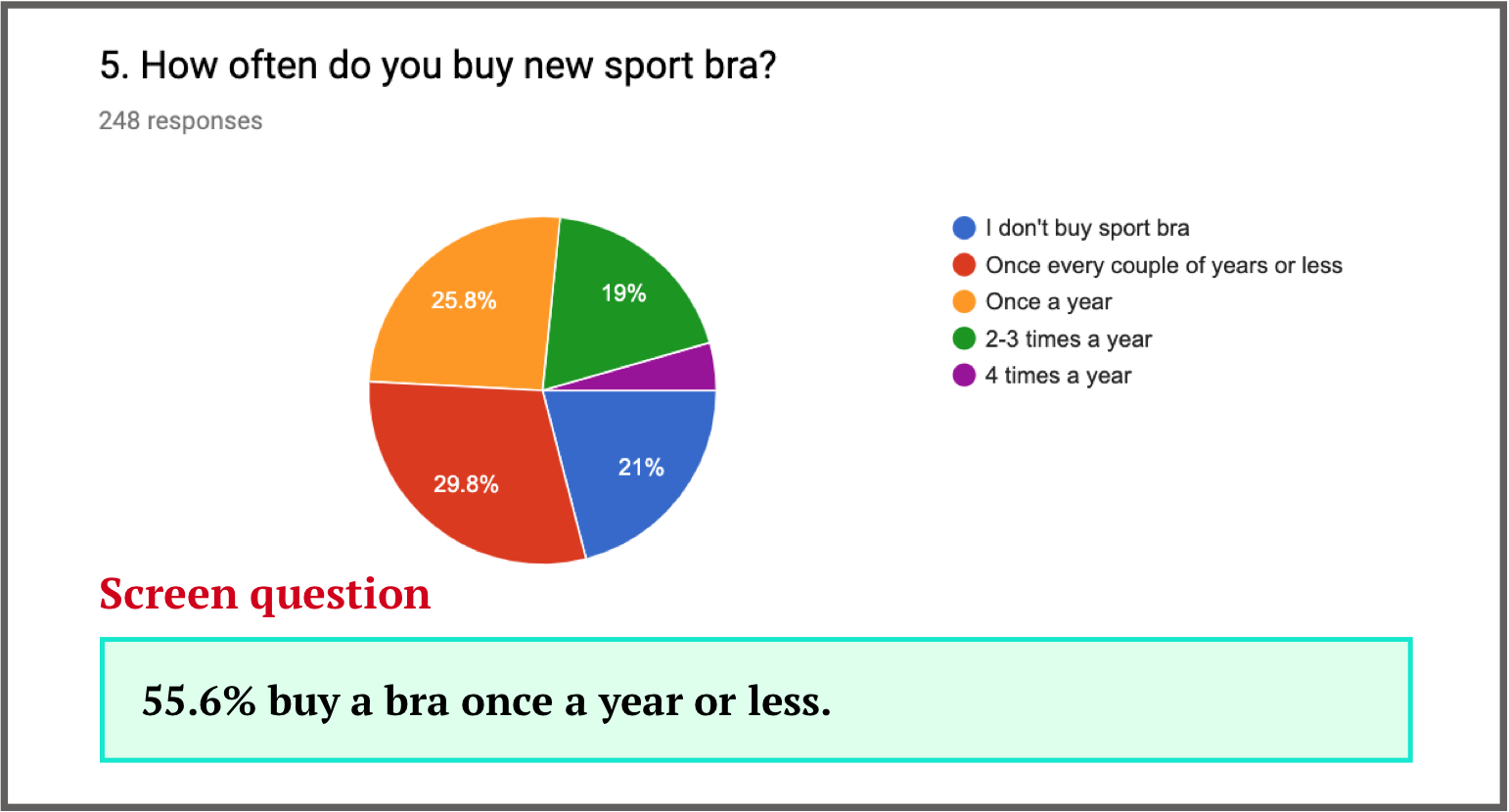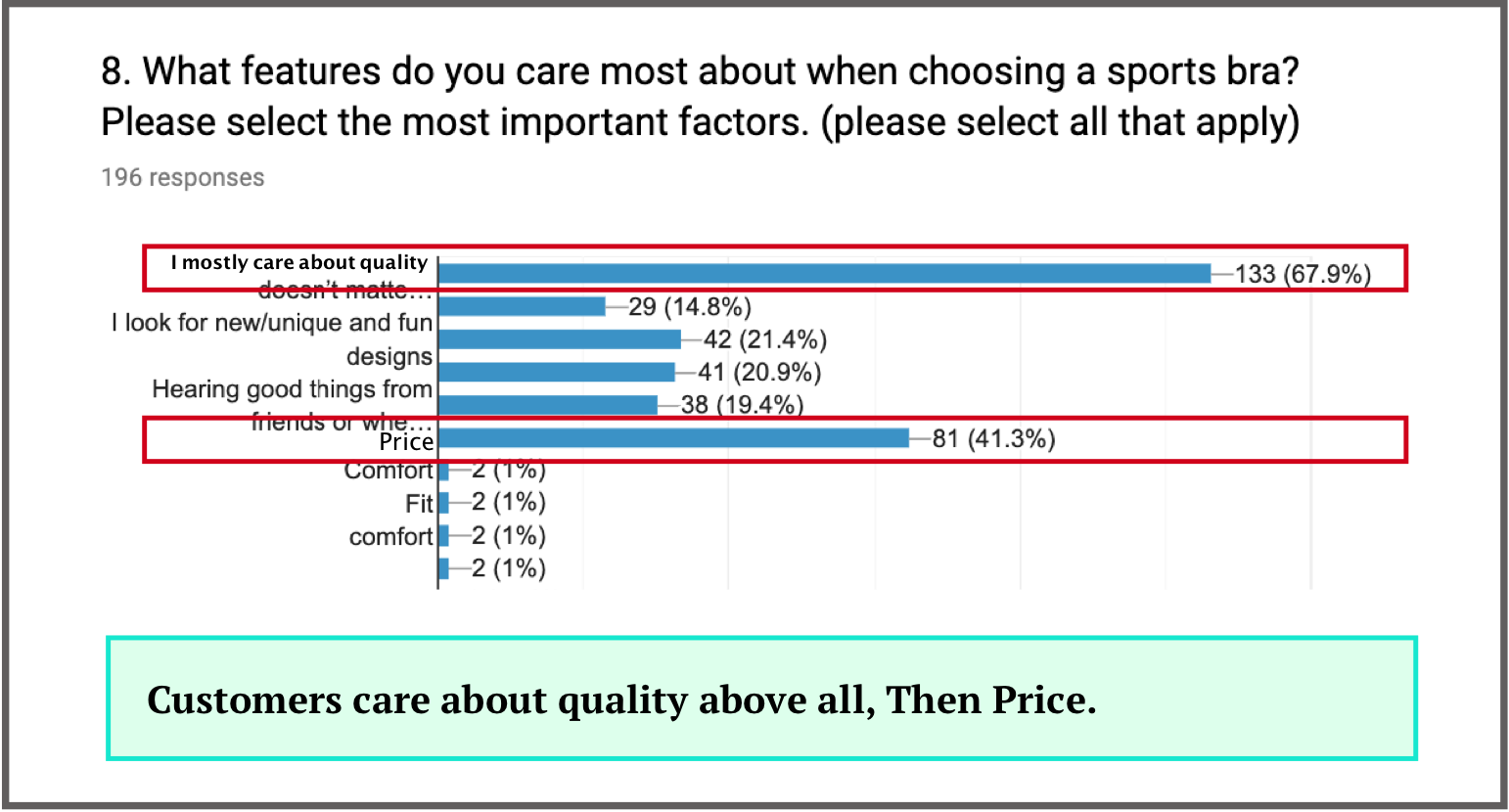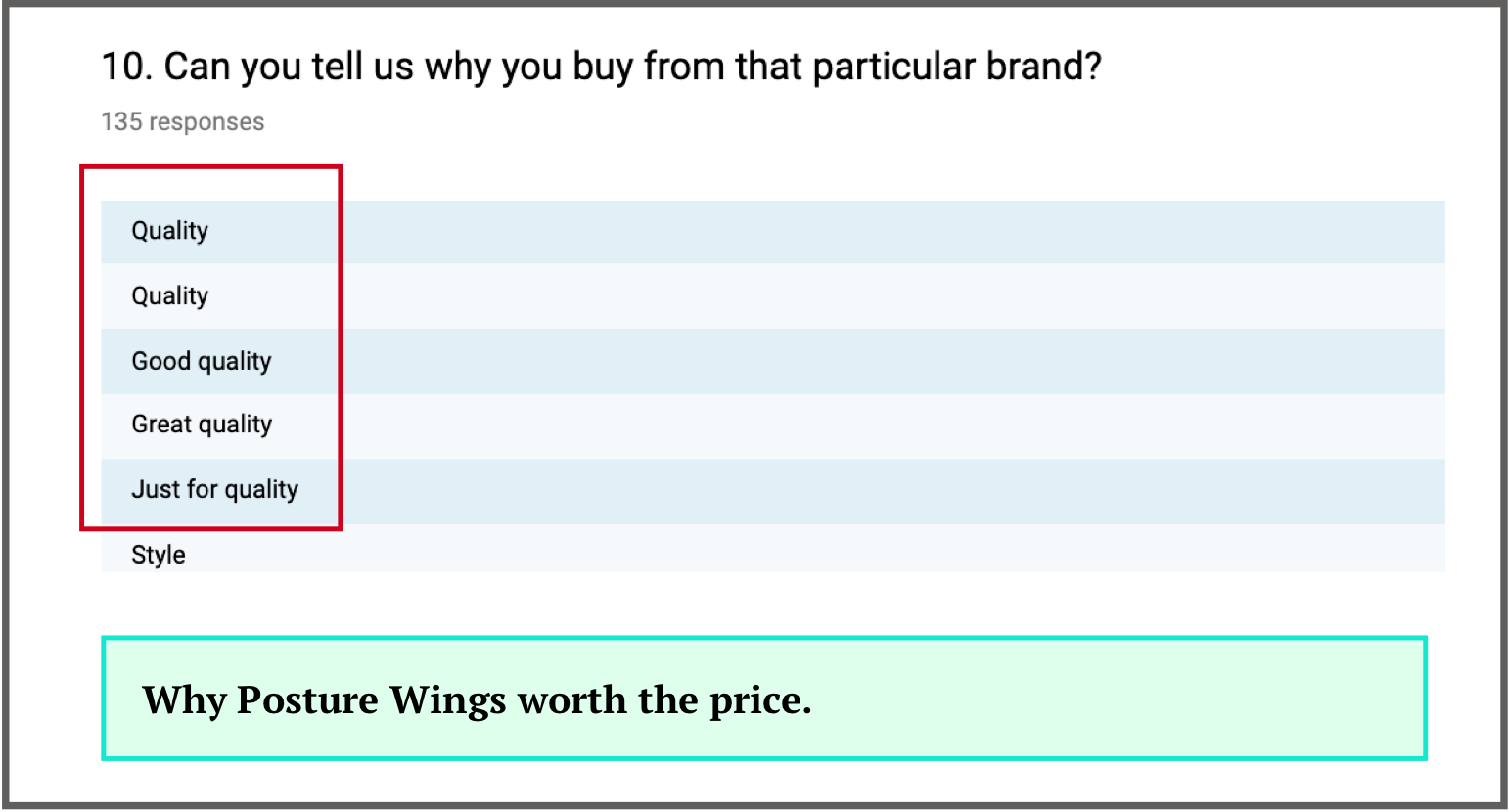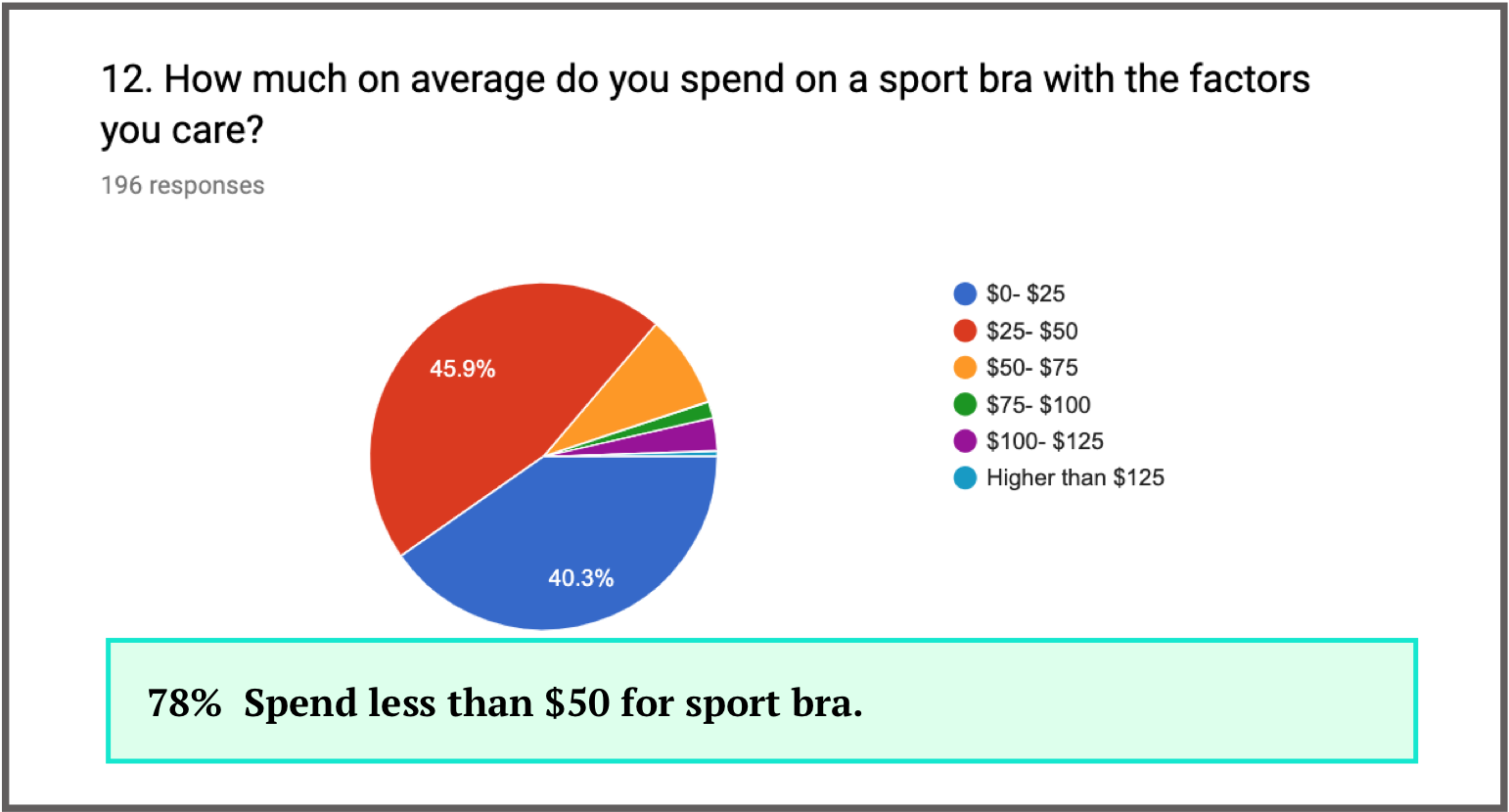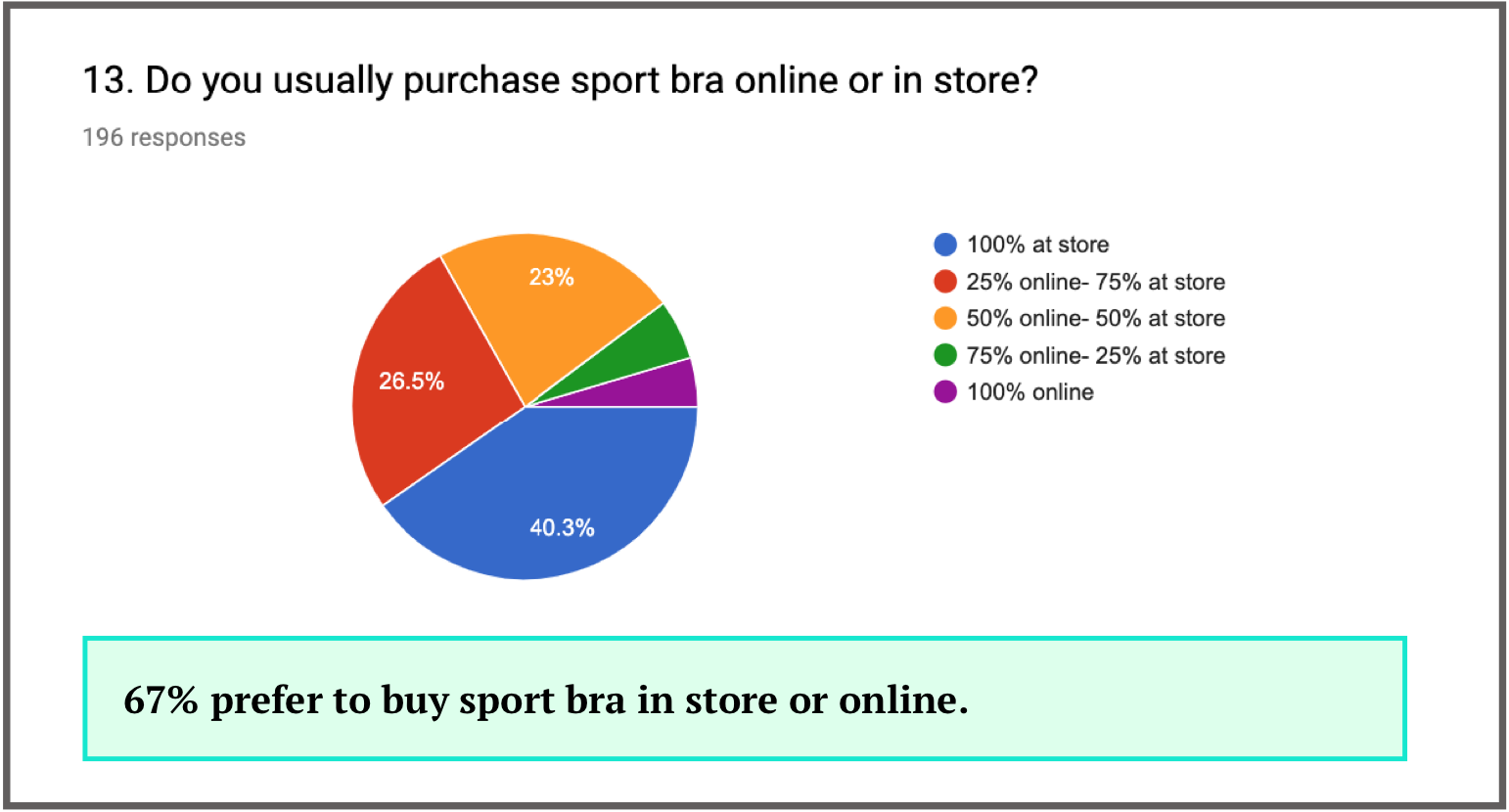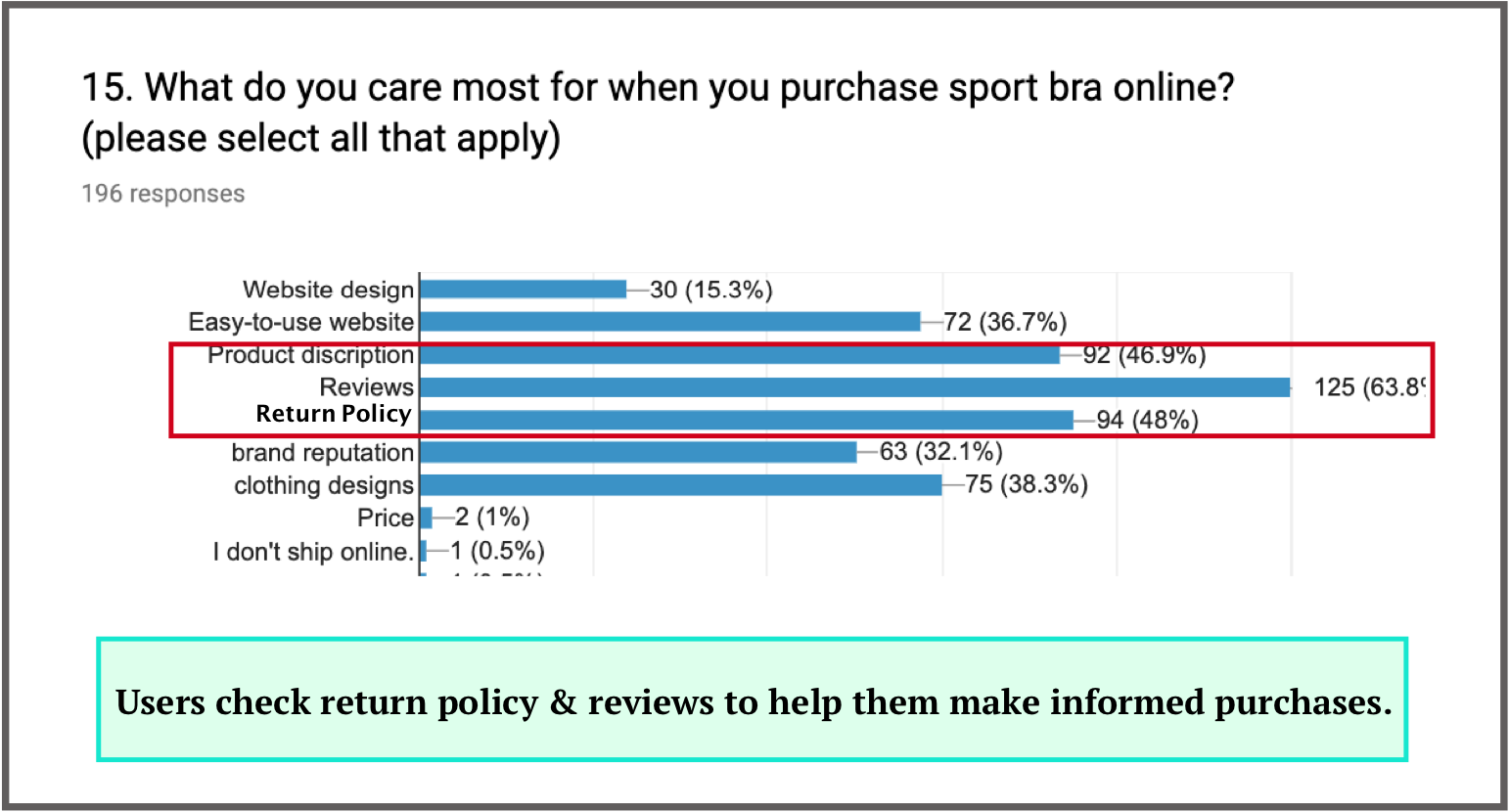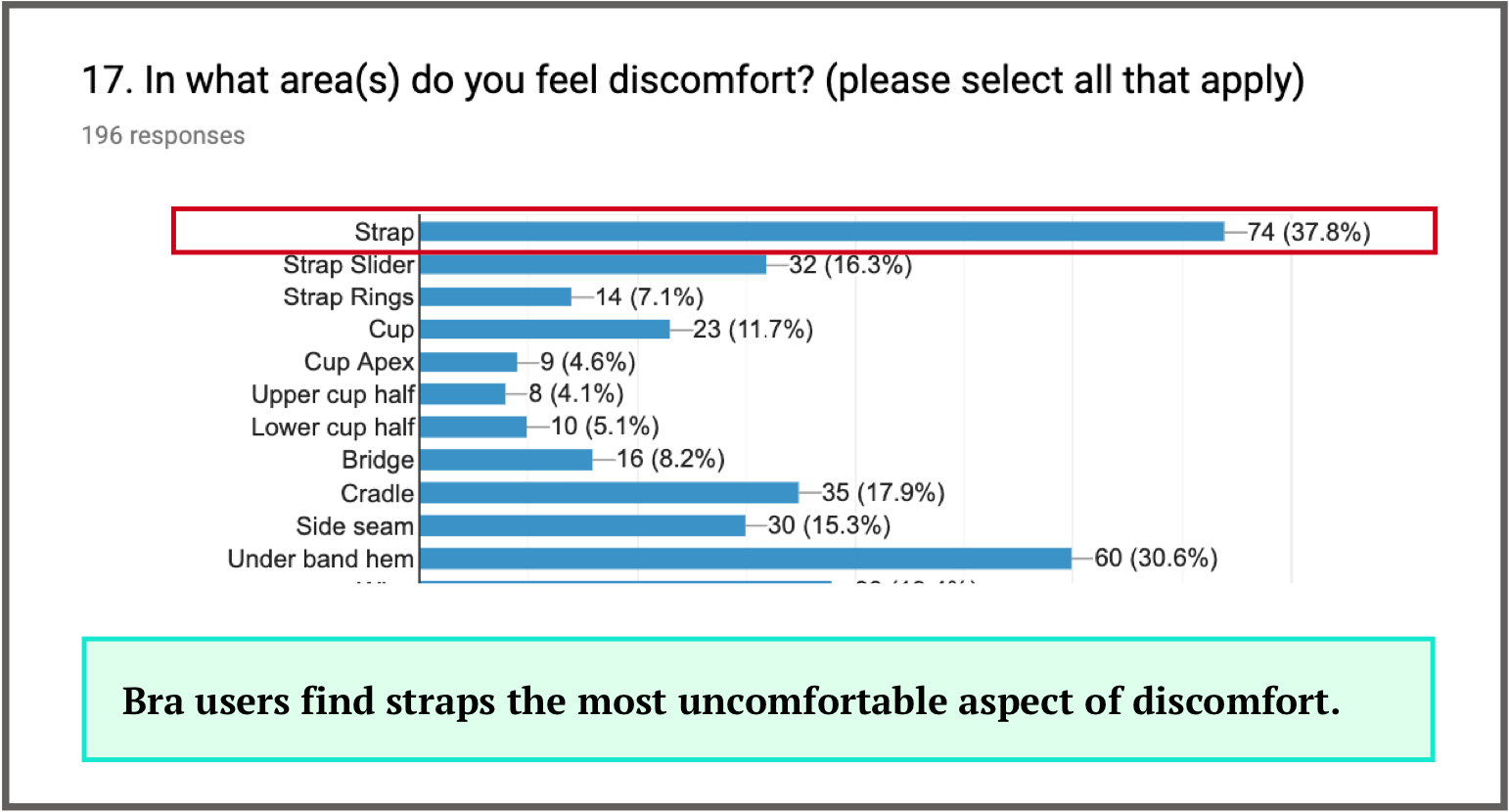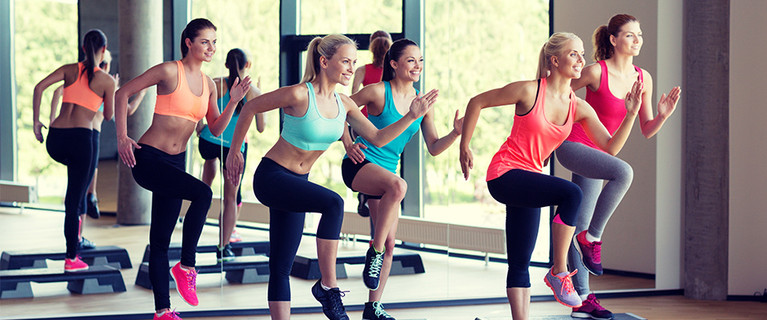 My Observation
Most people that wear sport's bra:
The 30s and 40s age group
Employed
Regularly exercise
Have a healthy lifestyle
So, I decided that my persona is a professional woman in her late 30s that is very health conscious; she is well educated and very comfortable with developing and new technologies.
Competitive & Comparative Analysis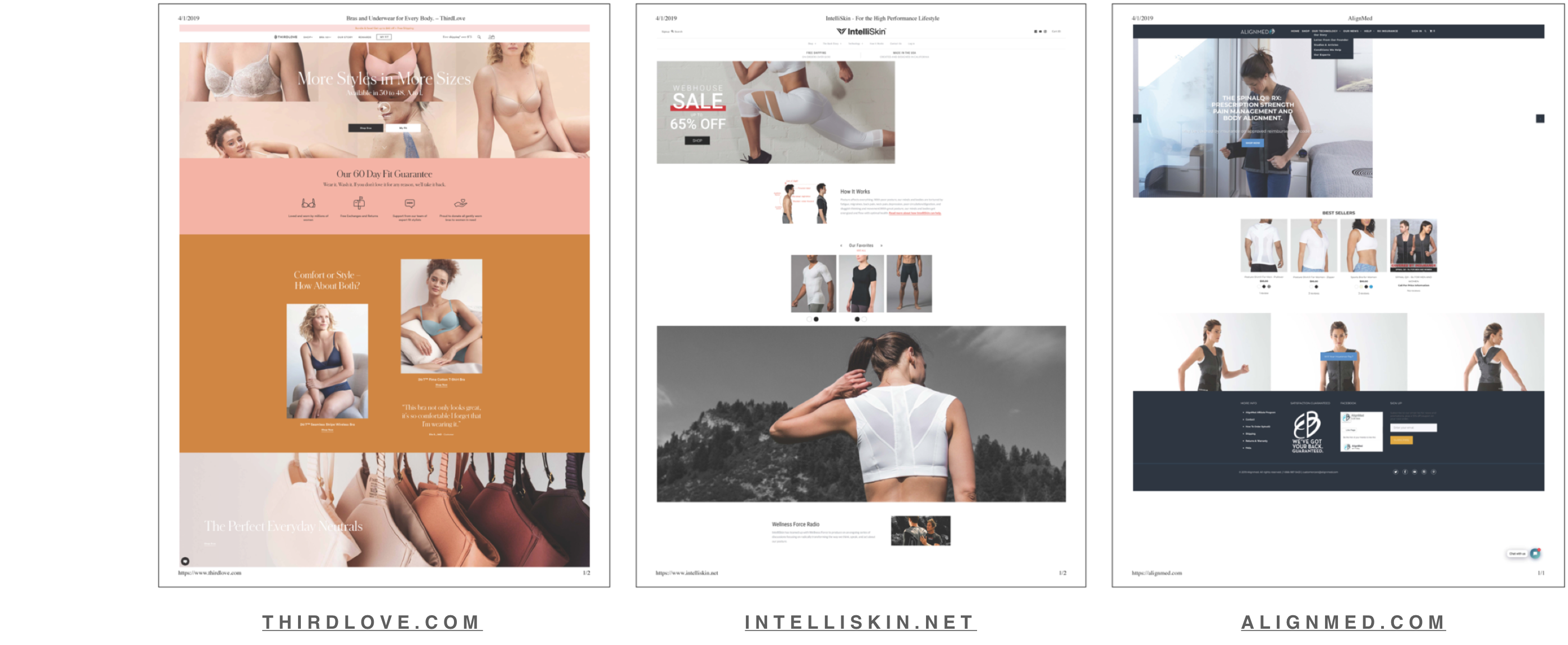 I conducted thorough research of potential competitor and discovered a few brands that have similar products and e-commerce experience that is comparable to our goals.
Alignmed.com is their biggest competitor.
Also investigated Third Love, Intelli Skin, Adore Me, and of course Victoria Secret.

Comparative Analysis
How's the competition different?
In our Competition review, we confirmed that the Posture Wing product is very different and revolutionary.
Posture wing has some strong points that other brands lack and we decided to promote this strong point to compensate for minor disadvantages such as lack of retail or product variety.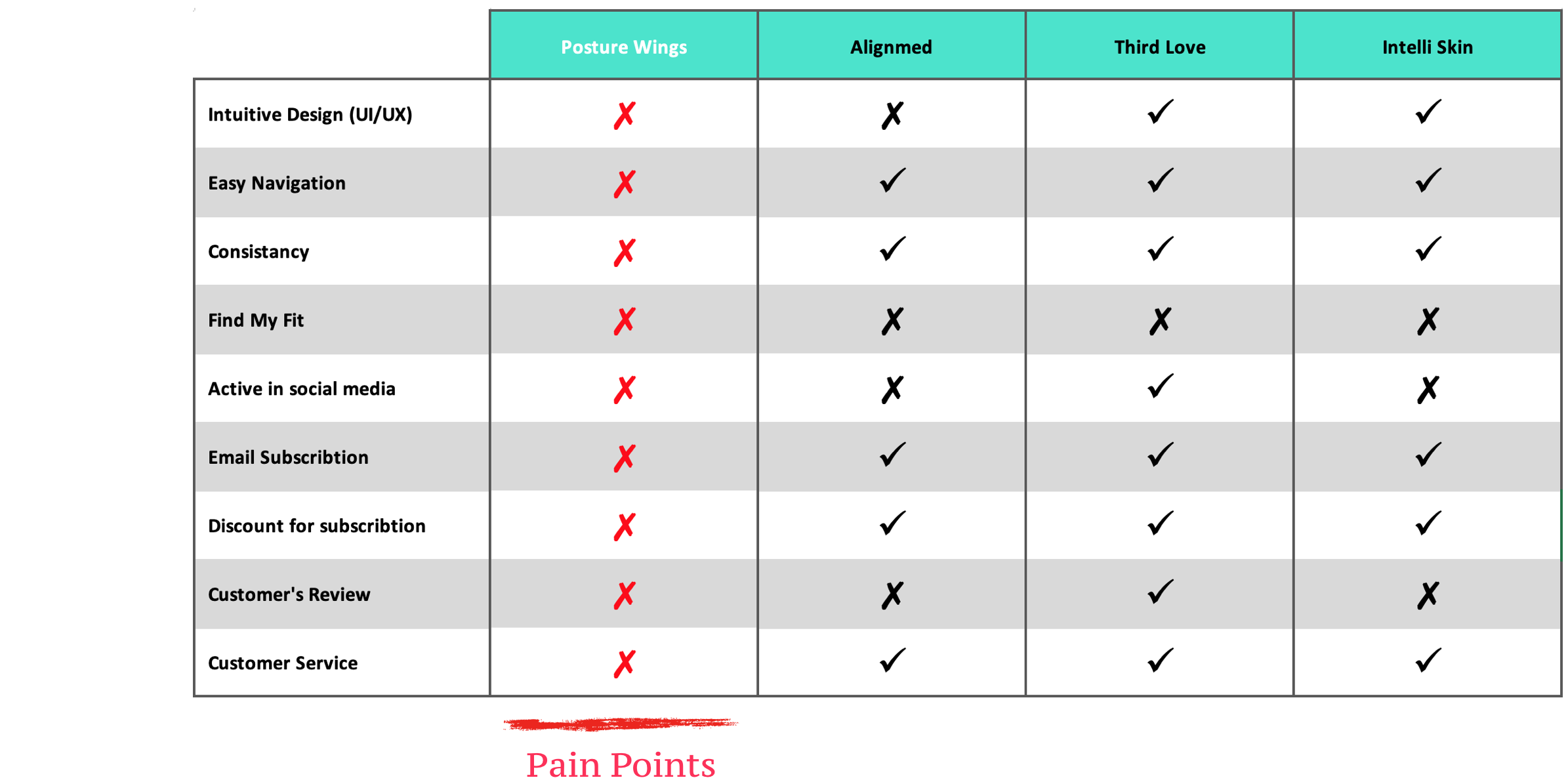 Competitive Analysis
The Competitor's Websites
I also conducted analyses of would be competitive websites. Obviously, we knew our website lacks many features. But, we learned what features our potential competitors are providing on their website.

After our research was completed, we came up with a lot of valuable data and we discovered many problems. The next step in our design process is to analyze the data and define the major design problems that should be addressed in our design.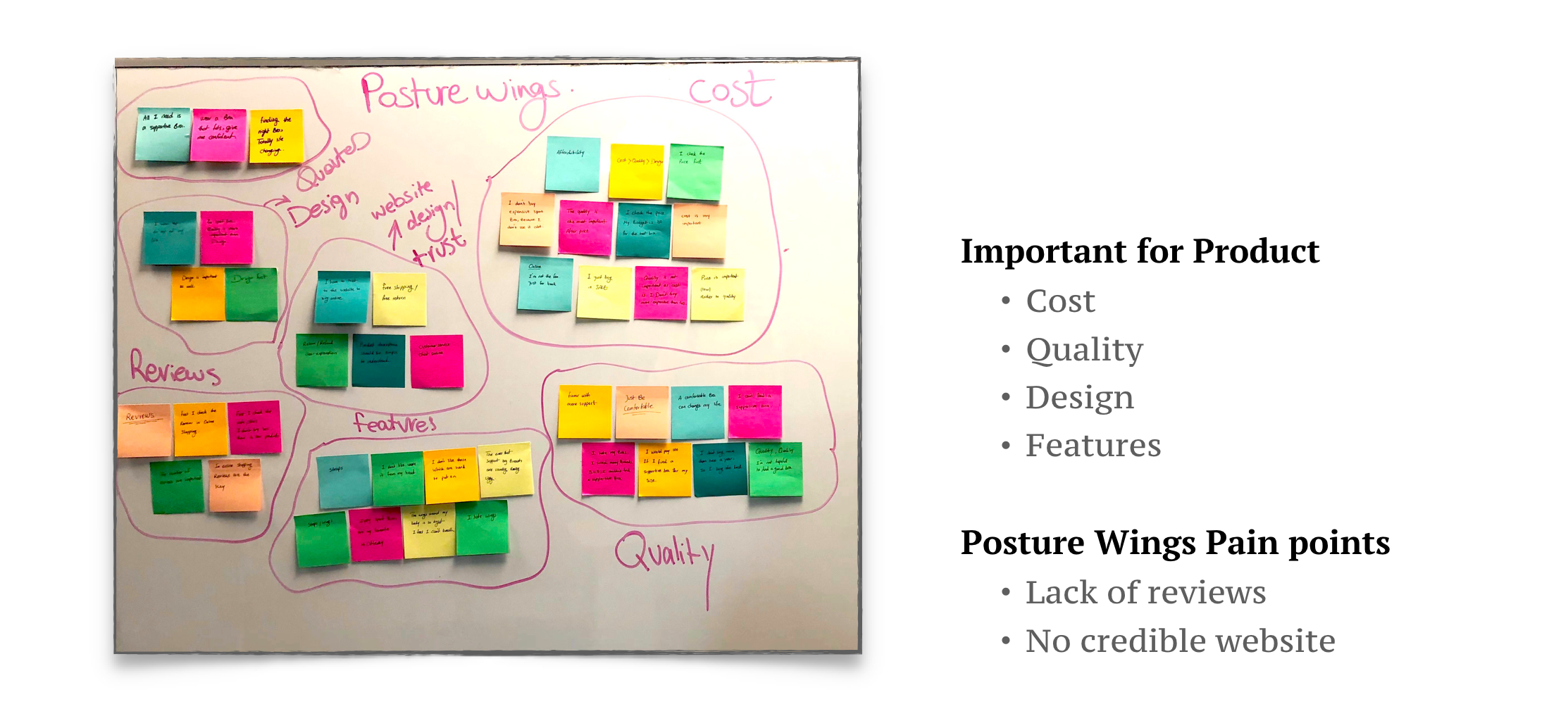 For creating our persona and see what are our pain points and our potential solutions, we conducted affinity mapping
The outcome for Affinity Mapping
We found out: Cost and fashion design are the major pain points of our product.
Lack of review and unprofessional website are the major pain points of our website.
Quality and Function are the strong points of our product.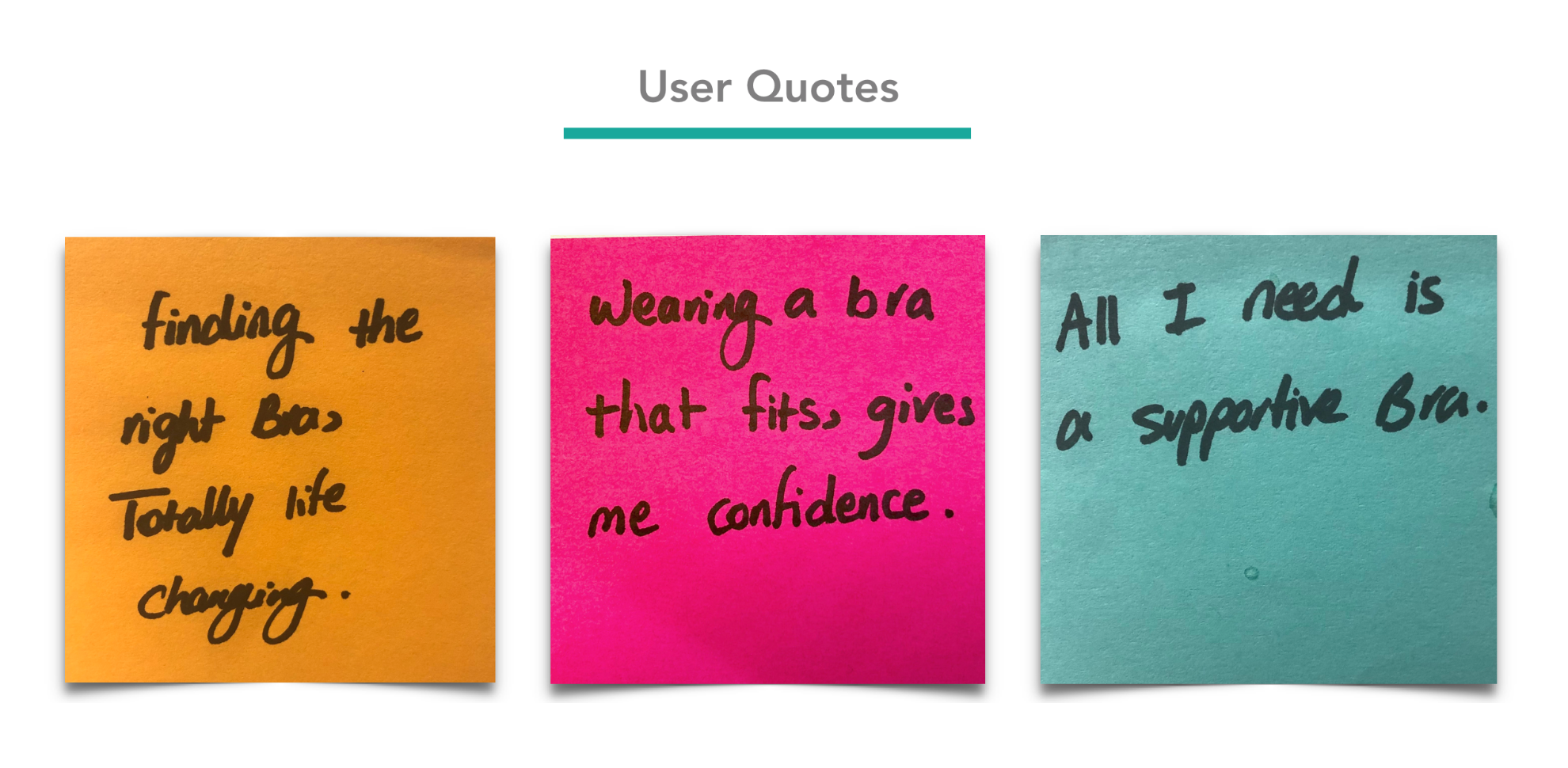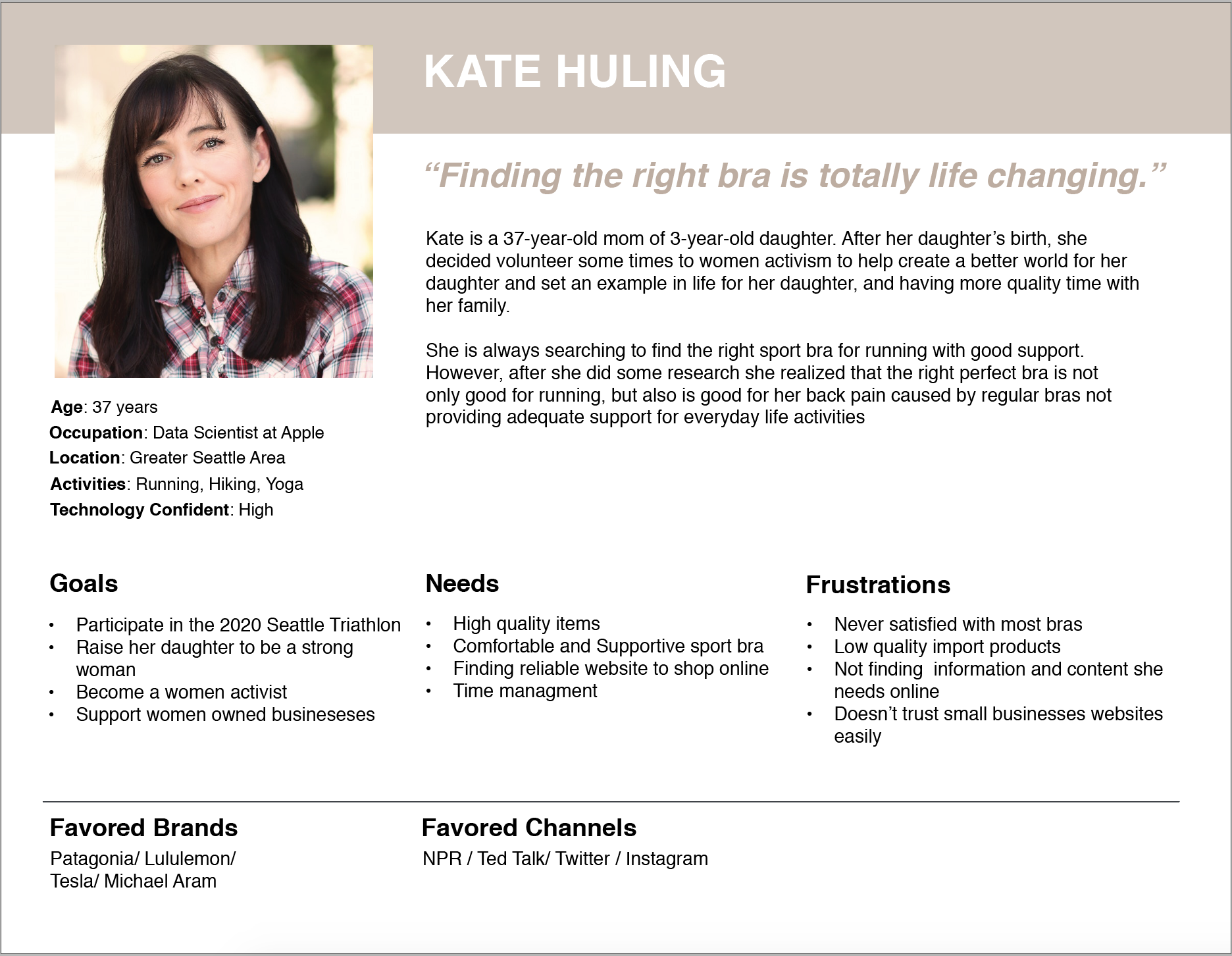 Meet Kate
Kate is a 37- year-old professional mom of a 3-year-old daughter.
She is an activist and supports women-owned businesses.
She buys high-quality items from reliable websites, and she cares about not wasting her time in stores and unreliable websites.
She is always searching to find the right sports bra for running.
The website will be redesigned based on Kate's needs and preferences.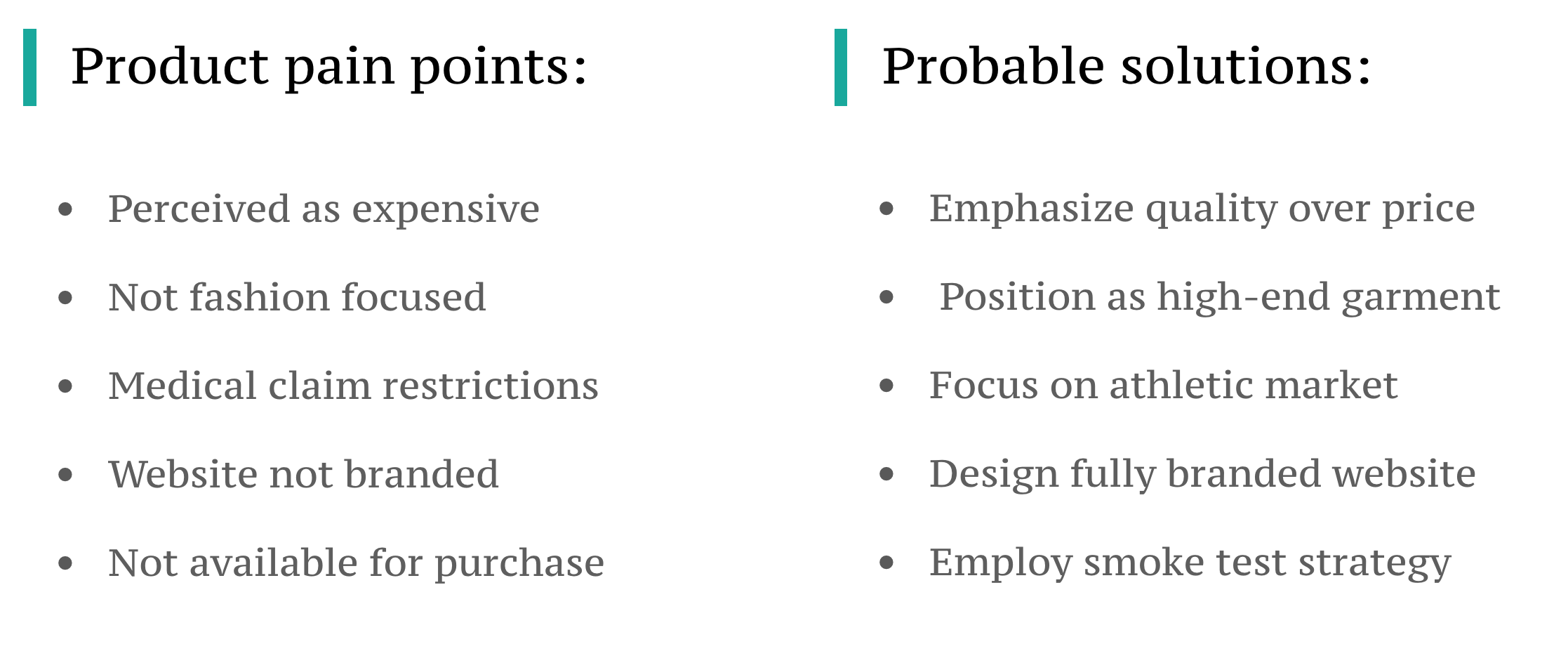 My team and I decided to use the smoke test Technique to gather data about people who can be our potential customers.
What is the smoke test?
Smoke tests comprise little more than a well put together landing page centered around a strong call to action ("CTA").
It's a method of providing users with an insight into your product alongside an option to purchase or sign-up.
Behind the scenes, the product may be in its infancy or may not even exist.
Our Primary Goal
To collect information
Not to sell the product.
According to what Kate needs
For developing the idea we considered A Scenario to respond to our Persona's needs, and we conducted the user flow to show her journey through Reserve Her Bra.
Scenario & User Flow
The journey Kate takes to explore the website and reserve the bra.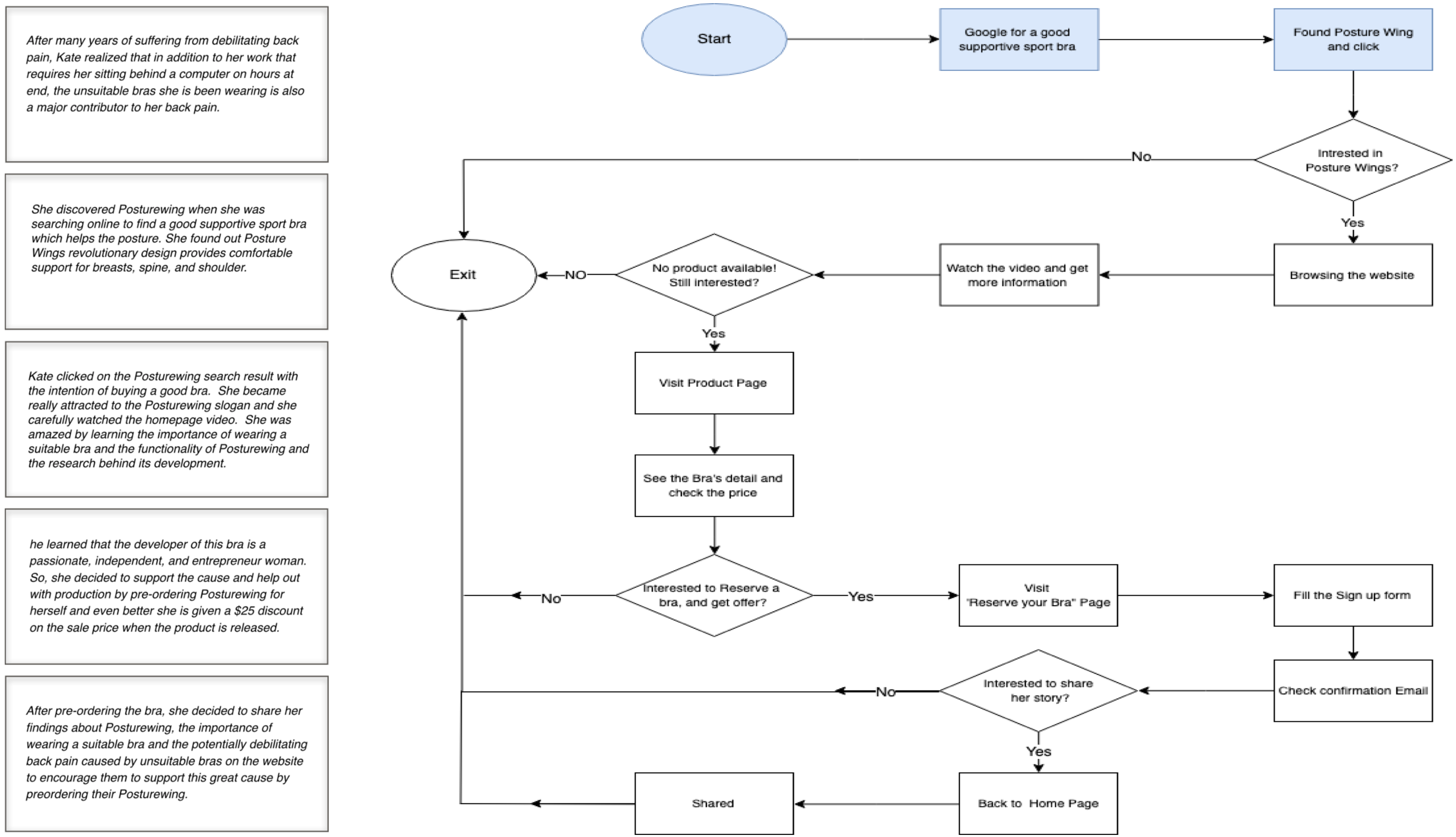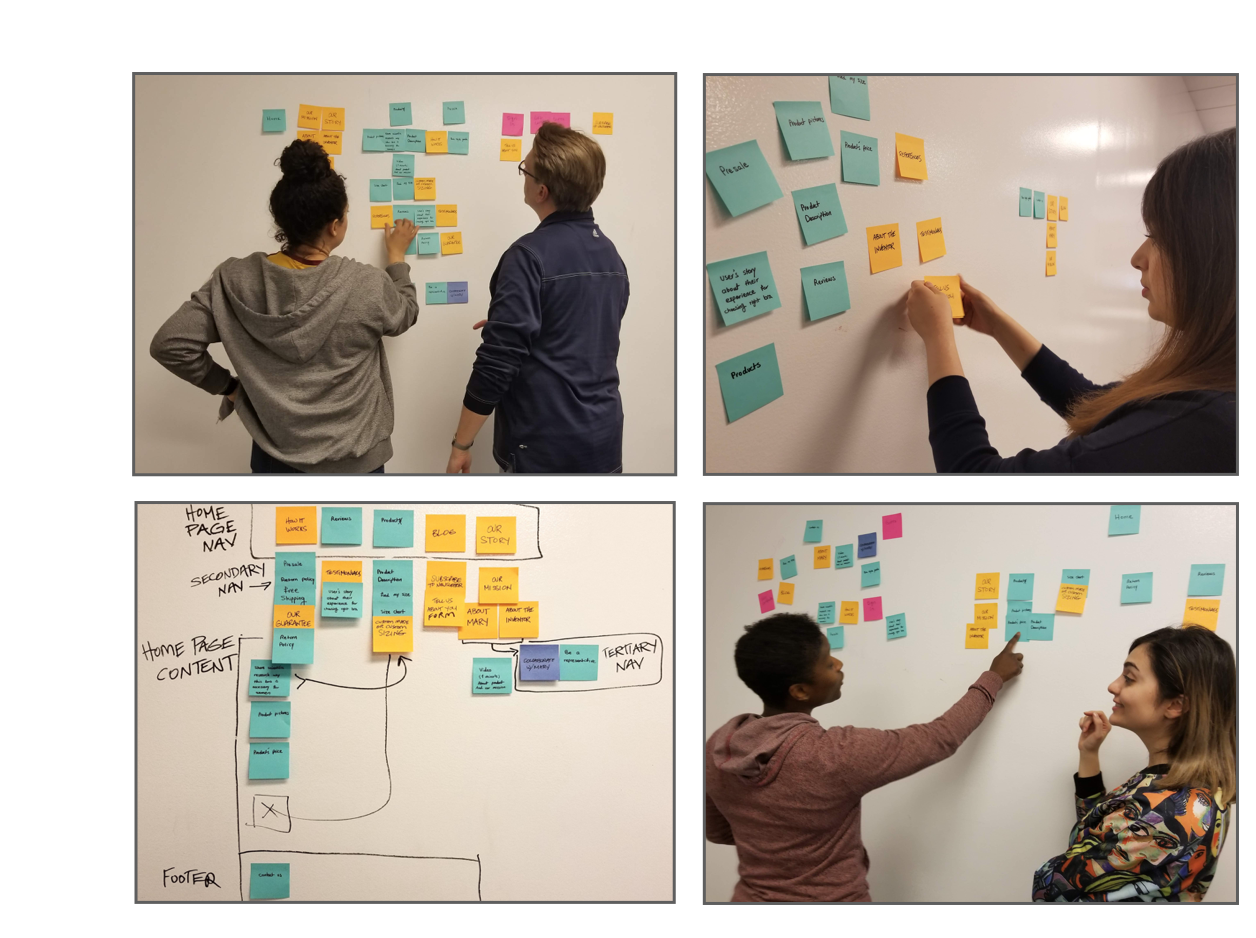 Card Sorting
We asked our users to categorize related items based on their priorities and classification. While we were conducting cart sorting we observed that every single person is categorizing and sorting the cards in a completely different fashion and we realized that people's mind works in very different manners based on their priorities and backgrounds.
After the card sorting insights, we roughed out a site map to help us focus on the users' mental model of the site.
The frame of reference is always "what does the user need? What will make this process easier and more pleasurable for them?"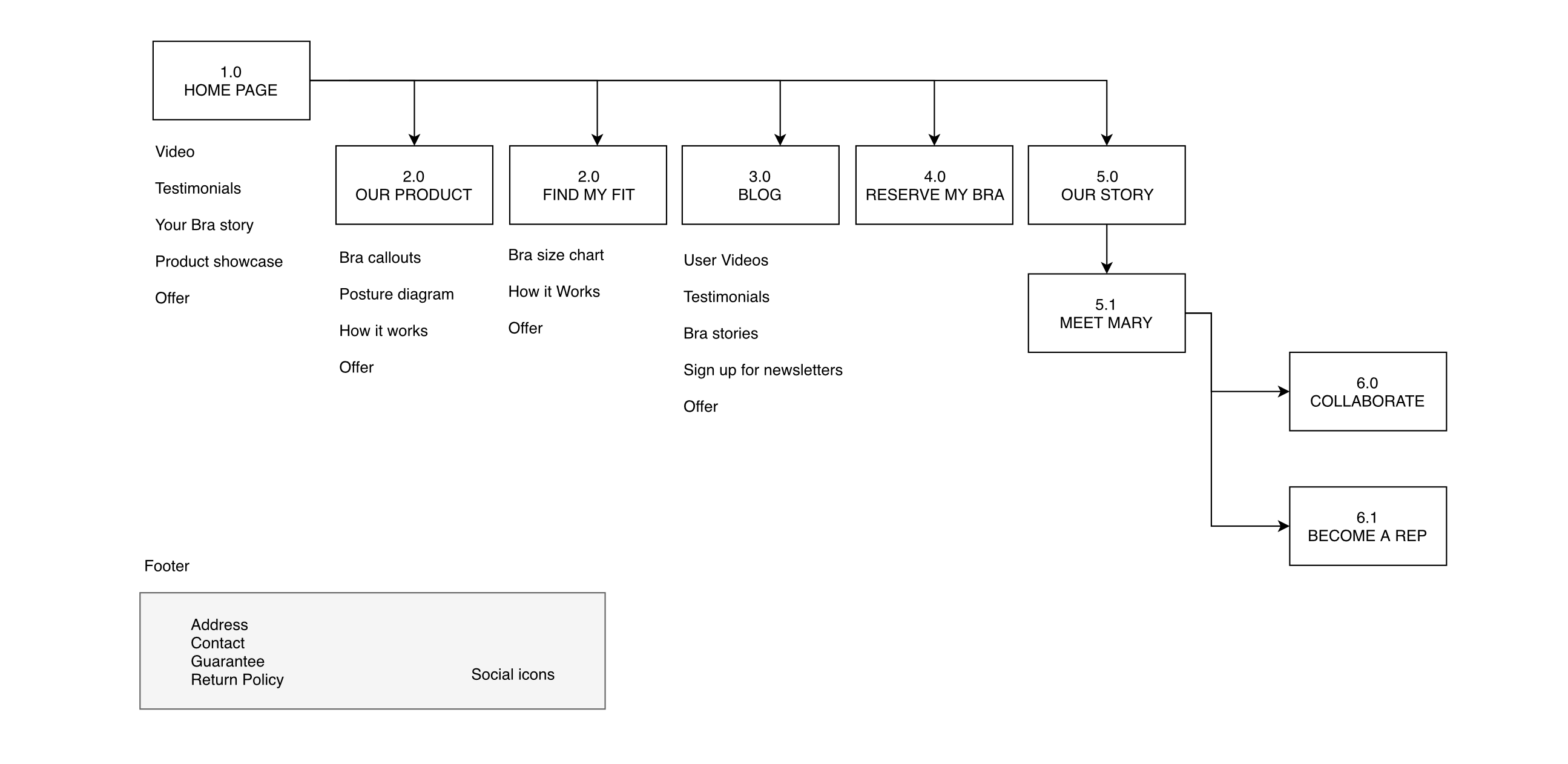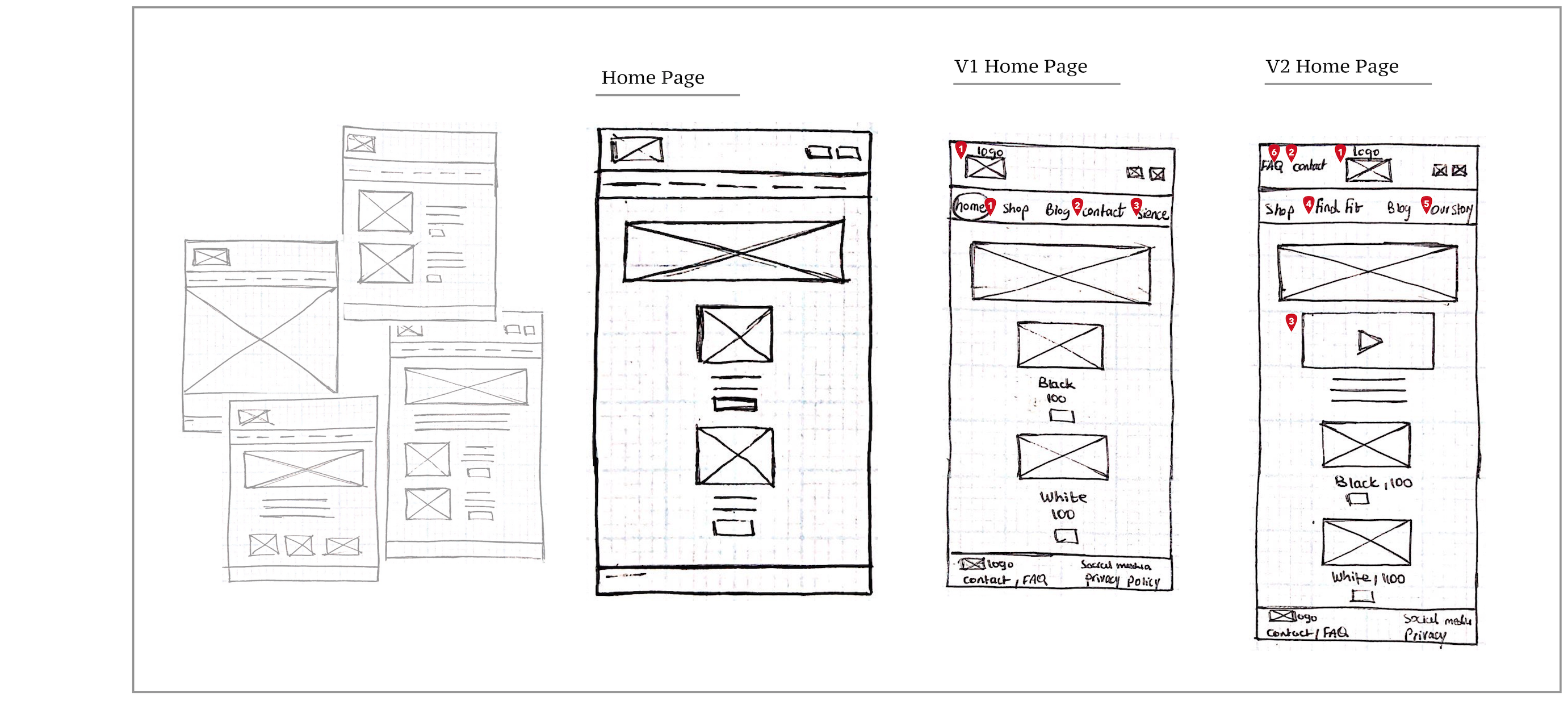 Refinement Based on Usability Testing
Logo home page
Not too much description
Details under the images
User like to see the price
Social media
Looking for contact us
Educational Video
Find my fit - Need sizing chart
Our Story
FAQ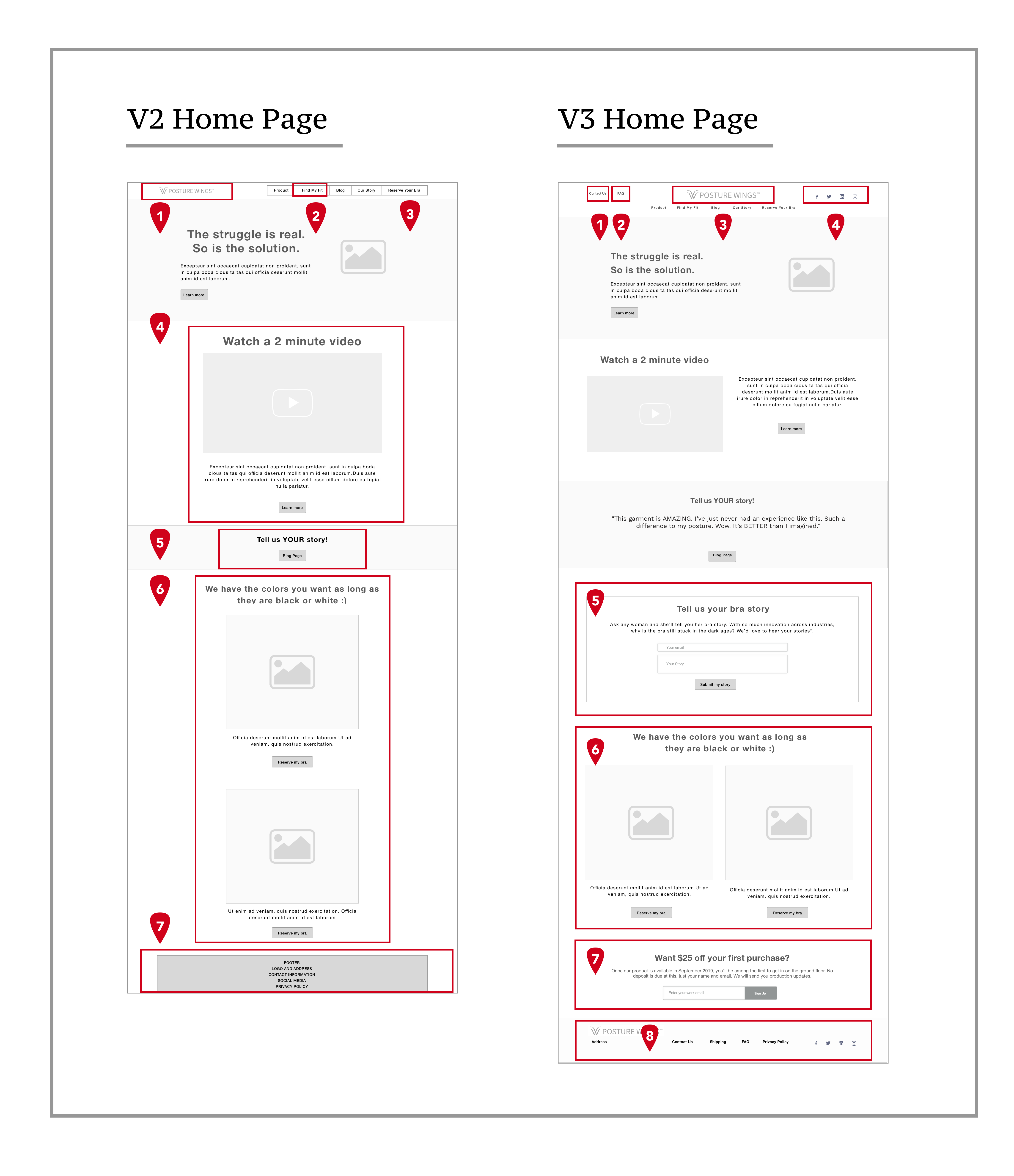 Second Iteration Refinement
Presale in our primary navbar
Added Size Chart in "Find My Fit" page
Added a 2minutes video about the importance of using a suitable bra
Read other women experience with bad bras (Empathy with users), but the user looked for a section to share their story as well
Prefer to see the bra colors side by side
The footer should be the full length of the page
Third Iteration Refinement
Removed "pre-sale" and changed to "Reserve your Bra" to avoid users feeling they had to pay
"Added "Contact Us"
Added "FAQ"
Moved logo to the center top
Added social media channel
Added a section for other women to share their story and their experience with bad bra
Moved white and black side by side
Added "Subscribe" and get $25 off
Footer full width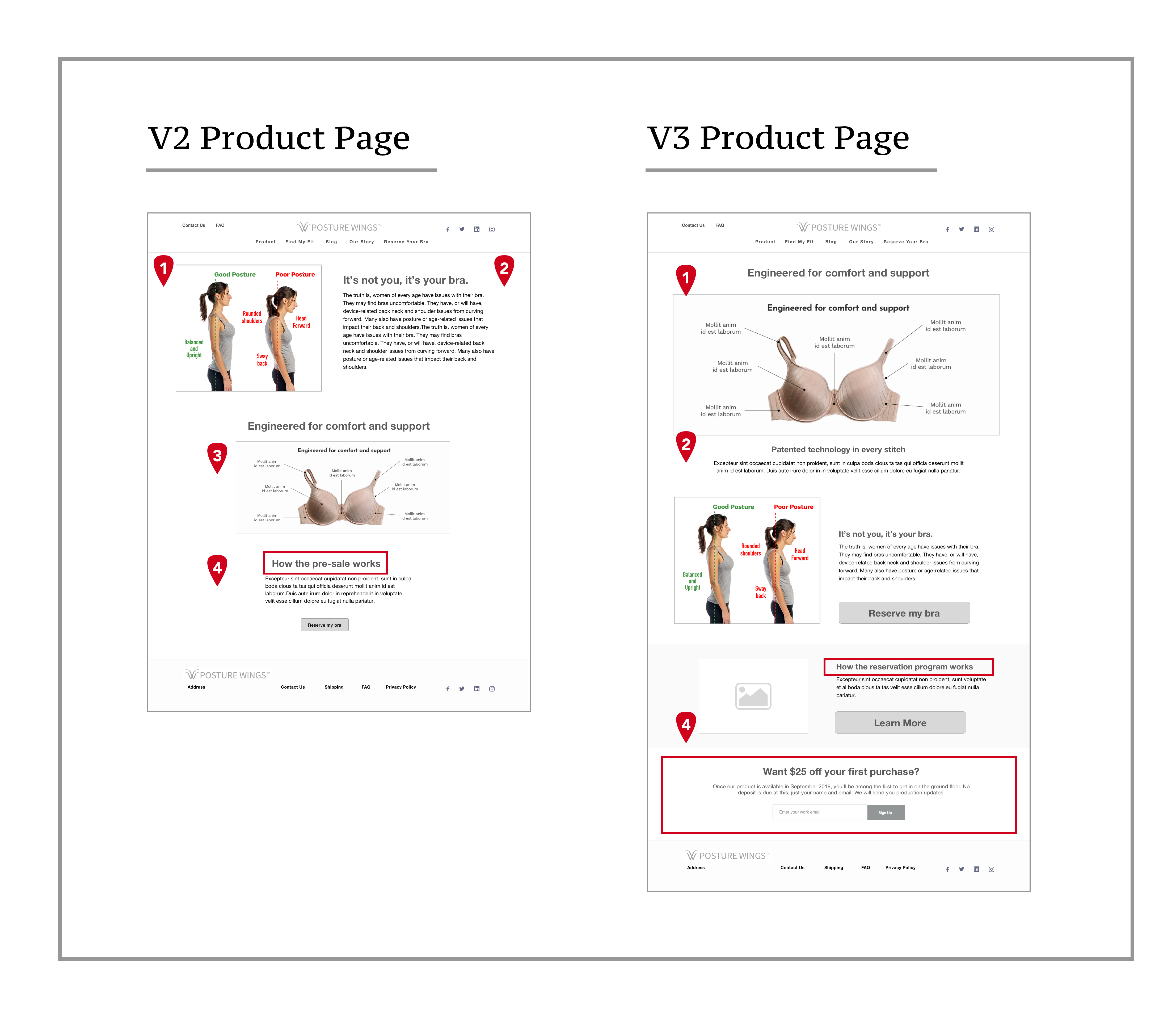 Second Iteration Refinement
Added a picture to illustrate the posture while wearing a good vs. bad bra
Too much text
Added a picture to show the engineering for comfort and support
The picture is small and needs the description
Added a section to show the steps that need to be taken for reserve the bra
Should not use the term pre-sale which is confusing
Third Iteration Refinement
Users want to first see the product picture and description
Made the photo bigger
The added text under the photo
Changed "How the pre-sale workS" to "How the reservation works"
Added "Subscribe" button and get $25 off in all three pages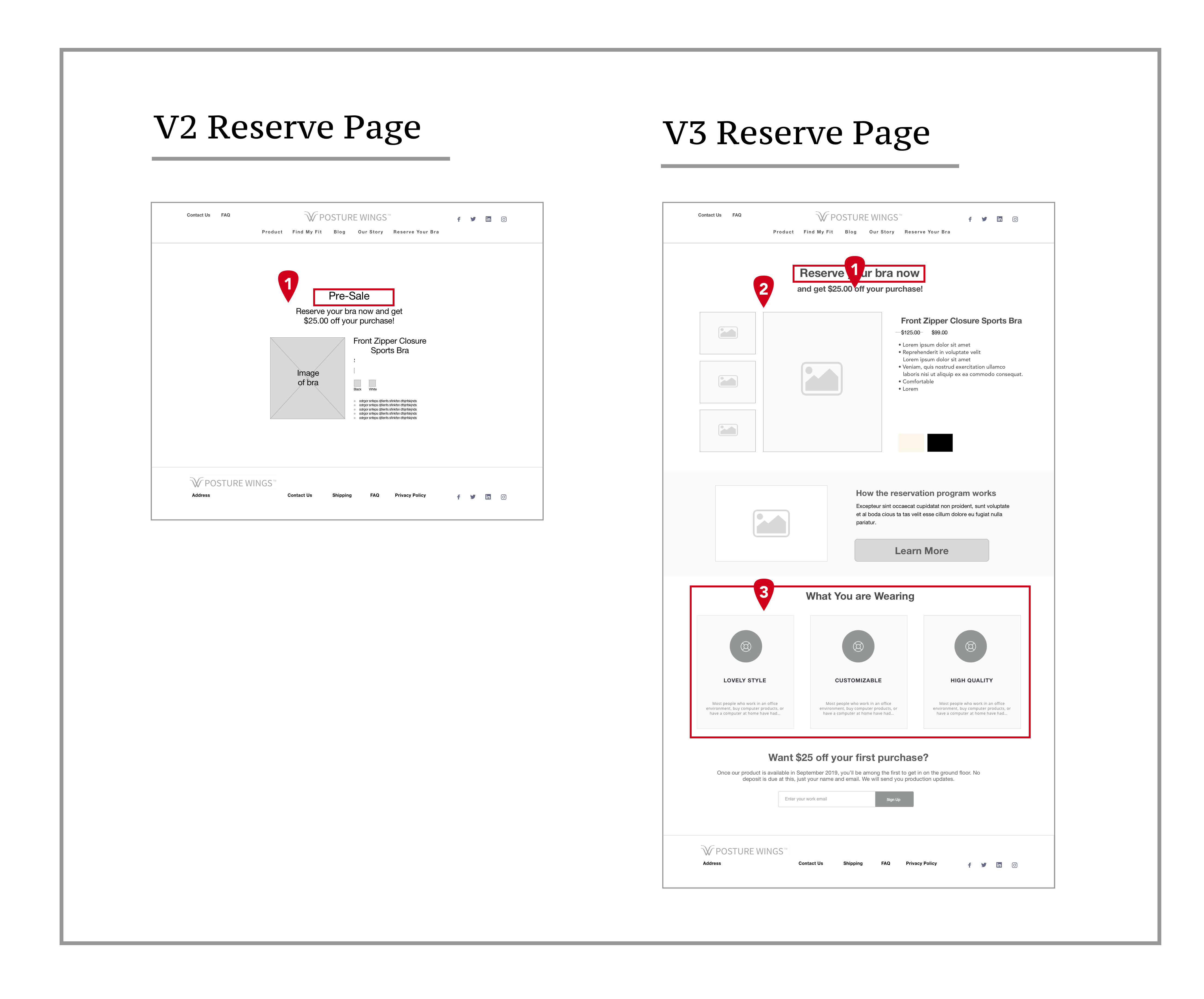 Second Iteration Refinement
Should not use the term pre-sale which is confusing

Users wanted more photos of the product
Third Iteration Refinement
Removed "pre-sale" and changed to "Reserve your Bra" to avoid users feeling they had to pay

Added multiple photos

Added content cards

Remember the Smoke Test?
When a product may be in its infancy or may not even exist, a smoke test is a useful method of providing people interested in the product with insight into your product alongside an option to purchase or sign-up.
Our call-to-action is for people to sign up to be among the first people to be able to buy the product when it's manufactured. We are not asking for a deposit, just a name, and email address. As an extra incentive, we're offering $25 off. We'll also use A/B testing to find test offers.


High-Fidelity Prototype
For the hi-fi prototype, we designed 3 pages: Home, Product, and Reserve My Bra.

Stuart did a great job leading the visual design effort and developing excellent visual designs that very well complemented my interaction design work.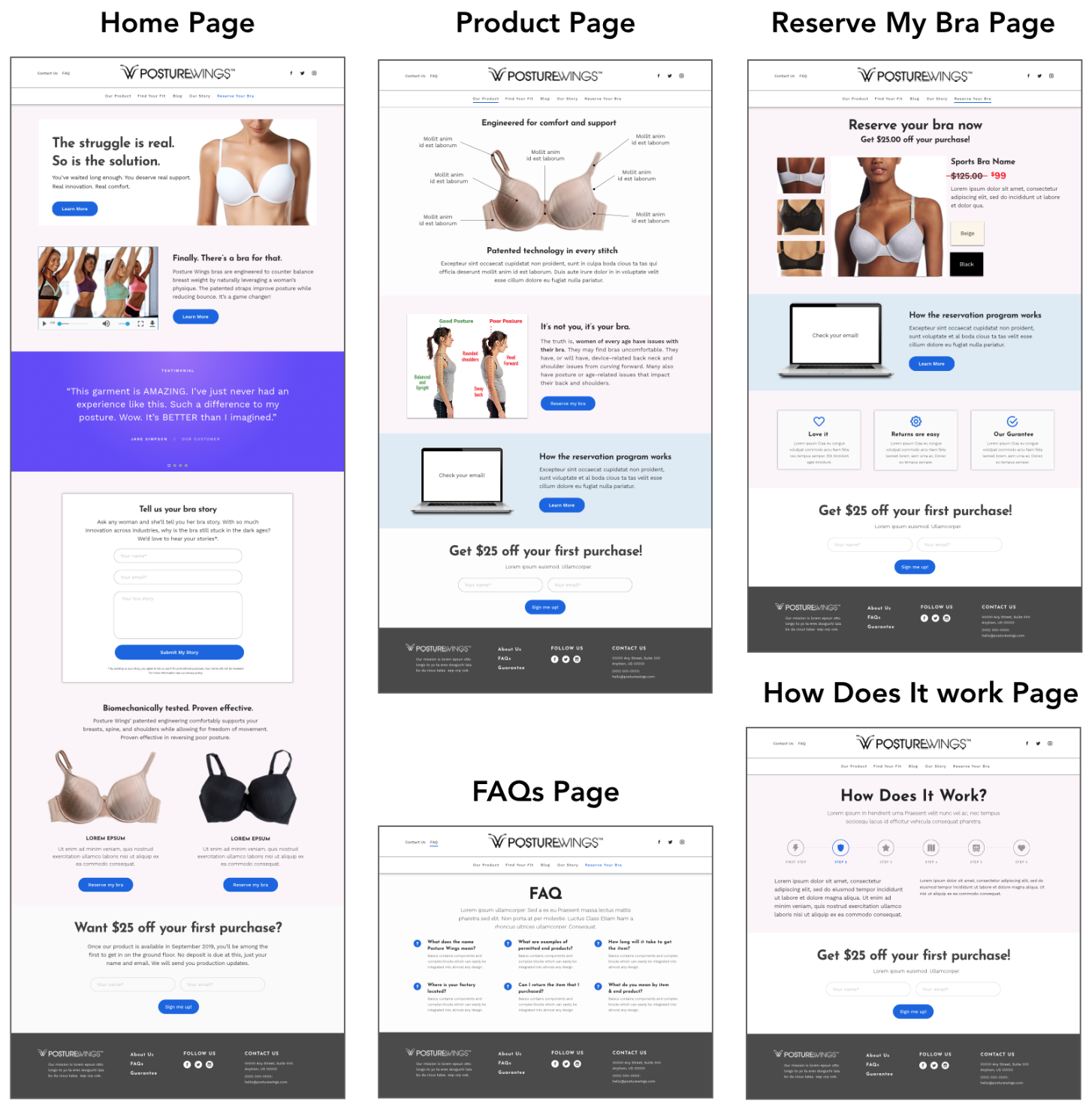 Interactive Design Process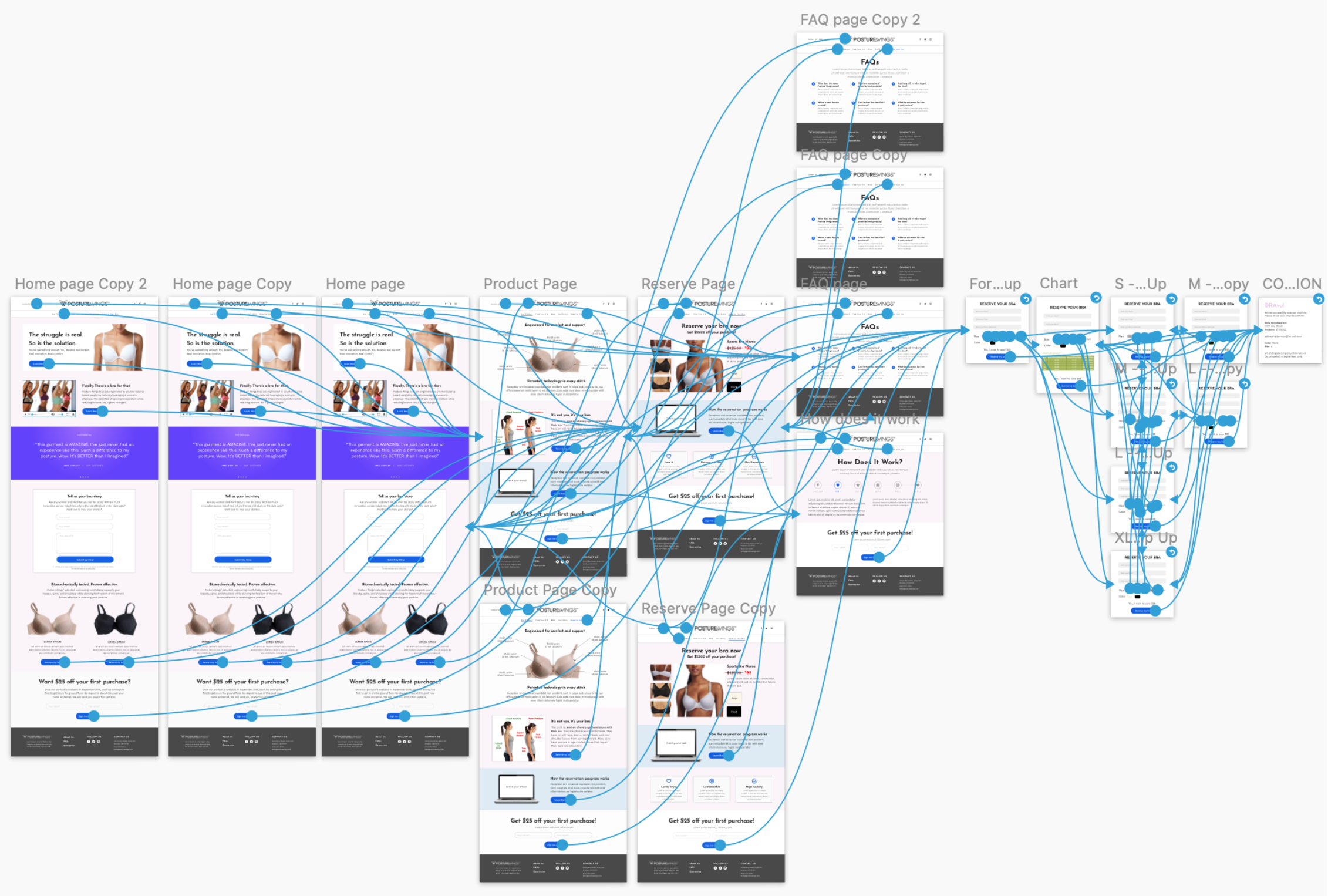 Result:
The design solutions resolve many of the heuristic problems we initially found, so the website is measurably more usable!
What did I learn?
I was able to apply user experience design thinking and marketing methods across the site to create a site that is useful to users and will also provide the client with a marketing tool.
As a team member, I learned how constant communication with the team and the client plays an important role specially when the project is in its early stage and even content is not available to use.
As an interaction designer, I learned from user testing that how simplicity and intuitiveness are important in a content-heavy website, especially for our users who consider time as a very valuable resource. They needed as less distraction as possible while they were using the website to be able to focus on the data they were getting.
Next Step:
A/B offer testing
Targeted FaceBook advertising
Create a community online through social media sites (Facebook, Instagram, Twitter, etc.)
Start blogging (forward articles, bio-mechanical science, women's rights, etc)
Keep in touch with interested users via e-newsletters or emails
Sell existing stock to responders
Consider a company name change and rebrand